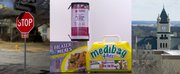 When the tornado sirens sound, that is not your cue to start thinking about how to survive severe weather.
Emergency management experts say the time to think is long before severe weather strikes.
"It is really important to plan ahead of time, and then practice what you're planning so that when the event happens, your response is just routine," said Teri Smith, director of the Douglas County Emergency Management.
Being prepared means not only knowing the basics — like the difference between watches and warnings, and which part of the house you would go to if a tornado strikes.
Being prepared also means stocking up.
"We encourage everyone to have a kit at their home that would allow them to be on their own without power for at least three days," said Sharon Watson, a spokeswoman with the Kansas Division of Emergency Management.
Think that is overkill?
Watson said Mother Nature certainly doesn't.
She said when a severe ice storm last year blanketed large parts of western Kansas, many residents were stuck in their homes without power for several days.
"We had shelters set up, but people couldn't get to them because of the road conditions," Watson said.
One of the more important items to have on hand is often one that people overlook, Watson said.
"Water would be the one item that is most critical," Watson said. "It will sustain you the longest."
But water is so available that people sometimes forget they may not always be able to turn on the tap. For example, for people who live in rural areas and use well water and an electric pump, they lose their water supply when the electricity goes out. Smith recommends that people plan on using one gallon of water, per person, per day.
After water, food and blankets are the most important items to have in a preparedness kit. Food, of course, should be nonperishable. And if you are using canned food, look for the containers that have the pull top lids. Flashlights or glow sticks also should be a basic component of any kit.
But there are other less obvious items that people should stash away for a bad day. Those include:
• Eyeglasses. "If you get a new pair of glasses, put the old pair in your kit," Smith said.
• Key documents. Photocopies of driver's licenses, a deed to your home, contact information for your insurance agent, and phone numbers of those you may want to call after an emergency.
• Prescription medicines that you must have. Don't count on being able to quickly get to a doctor or a pharmacist after an emergency.
• A whistle. People don't like to think about what they would do if they were trapped under a pile of rubble, but Smith said a whistle could be invaluable because you may not have the energy to scream for help.
People also don't like to think of the possibility of being injured as part of an emergency event. But whether it be a flood or a tornado, injuries are something people should be prepared for, emergency leaders said.
Having a good first-aid kit is a key. The American College of Emergency Physicians suggests several items be a part of any good first-aid kit. They include:
• Acetaminophen, ibuprofen and aspirin tablets.
• Cough suppressant.
• Antihistamine.
• Decongestant tablets.
• Oral medicine syringe for children.
• Bandages of assorted sizes.
• Safety pins to fasten bandages.
• Elastic wraps.
• Gauze and adhesive tape.
• Sharp scissors with rounded tips.
• Antiseptic wipes.
• Antibiotic ointment.
• Hydrogen peroxide.
• Instant activating cold packs.
• Tweezers.
"Appropriate members of the household should know where the kit is stored and how to use each item," according to the association's Web site.
"The how-to part is critical. Buy a first-aid manual and read it thoroughly. The items in the kit will be of little use unless you know how to use them."
Copyright 2018 The Lawrence Journal-World. All rights reserved. This material may not be published, broadcast, rewritten or redistributed. We strive to uphold our values for every story published.