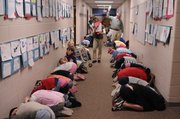 When Indianapolis meteorologist Crystal Wicker walks into a classroom, she knows there's one question in particular that is sure to break the ice.
"When I ask who's afraid of tornadoes, everyone raises their hands … including me," said Wicker, who cites a tornado hitting her hometown of Kendallville, Ind., as a particularly frightening moment in her life and a key factor in her choosing a career in meteorology.
Wicker has created a Web site called weatherwizkids.com to engage children's interest in the hows and whys of weather. Packed with experiments and simply told scientific explanations, Wicker strives to make natural phenomena more understandable and less frightening.
"Knowledge is power," Wicker said. "The more we talk about things, the less afraid we are."
Kansas City meteorologist Katie Horner would agree. Her recent book, "Brainstorming, A Creative Guide to Help Parents and Children Through Severe Weather," was originally titled "From Fearful to Fascinated."
Horner, who is known for addressing children directly in her broadcasts, recalls her firsthand experience with her oldest daughter.
"It absolutely terrified her, because if there was bad weather I was always outside in it," she said.
Horner advocates a hands-on approach when addressing fears of severe weather such as thunderstorms.
"I'm not a big fan of saying 'God is upstairs bowling,'" she said. "I'd rather teach children what causes that sound."
As for who plays the biggest part in children's understanding of severe weather, it's not the neighborhood meteorologist or the school science teacher but the person holding the child through the midnight storm.
"Ninety-nine percent of it comes down to the parents. Anxiety transfers; kids feel it. And if you're calm, they'll pick up on that, too," said Horner, who points out that "Brainstorming" is secretly written for the parents.
So, where do parents begin?
• Acknowledge the fear.
According to Bridget Biggs, assistant professor of clinical child psychology at Kansas University: "Parents can start off by realizing that a fear of severe weather is pretty normal, especially with younger kids. The worst thing you can do is to tell them to stop worrying."
• Get scientific.
Whether you read a book, help your child with a science experiment, or simply talk it over, illuminating the science behind the natural phenomena can ease their fears.
Wicker recommends the tornado in a bottle experiment as a visual way to give children a better understanding into the formation of a tornado.
"You can see the vortex and add glitter or food coloring to make it more visual," she said. "I like to add little toys or LEGO guys flying around to add an entertaining aspect to it."
Experiments for thunder and lightening can be found on weatherwizkids.com.
• Have the child explain it to you.
"Sometimes children may continue to ask for reassurance, and to keep explaining it to them over and over can encourage them to depend on that reassurance," said Biggs.
She suggests turning the tables and having the child explain the phenomena back to you.
• Preparation.
Horner points out that the uncontrollable aspect of weather may be what's most frightening for children.
"The fact that it's being created by a power that they cannot control takes that responsibility away, but they can take it back by keeping themselves safe," she said. "When you go to the basement and take precautions, you are accepting this control."
Teri Smith, director of Douglas County Emergency Management, agrees.
"We've learned that the more we educate children, the more educated the parents are," Smith said.
Smith recommends keeping supplies that would last the family up to 72 hours, including nonperishable food items, flashlights, batteries, a first-aid kit, trash bags, a change of clothes as well as any medications that might be needed. And don't forget some entertainment.
"Make sure you put something in the kit to pass the time, whether it's coloring pages or board games," said Smith, who adds that young children may enjoy having their own emergency kit backpacks.
And don't forget about the kit.
"Every six months, you should change those food items out," Smith said. "That's a good time to have a picnic, put out the blanket, get out that food and go over what you would do in a storm."
Copyright 2017 The Lawrence Journal-World. All rights reserved. This material may not be published, broadcast, rewritten or redistributed. We strive to uphold our values for every story published.