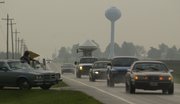 For some, the sound of a tornado siren is an indication to take cover.
For a certain type of person, however, it's a call to action.
Storm chasers will often drive hundreds of miles to place themselves in the best possible spot to catch a glimpse of some of Mother Nature's most devastating power.
In fact, the planning begins days before the slightest hint of a storm, said Scott Blair, a Lawrence resident who chases storms for a hobby.
"You're typically sitting in mostly sunny skies hours before storms develop," he said.
He and others who track these storms use a voluminous amount of weather data, surface maps and radar to track developing storms.
For Blair, who also works for the National Weather Service, it's not as much a thrill ride as it is portrayed in movies.
"The majority of people go out because they have a genuine fascination for severe weather," he said.
And it's not something for amateurs looking for adventure.
"Most of a chase is anything but a thrill," Blair said. "There's a lot of hard work and time invested in it."
But, for folks who just have to get an in-person glimpse of a tornado, Blair recommends groups that organize storm-chasing tours.
Charles Edwards of Oklahoma City runs one such group, called Cloud Nine.
For $2,800, Edwards will lead you on a two-week excursion in the spring to look at crazy weather, wherever it may form.
"I've been all the way up to the Canadian border and all the way down to the Mexican border," Edwards said.
Edwards, a former Texas A&M; University meteorology student, said he is already booked for the entire year.
He came up with the idea to make a business out of storm-chasing to generate income to supplement his storm-chasing hobby.
"It's something you never forget and you want to see more all the time," Edwards said. "It's completely addictive."
Jordan Wrecke has been chasing storms for nearly four years. He's a senior at Kansas University from Shawnee, and is pursuing a minor in meteorology to supplement his geography major.
He said he has enjoyed hooking up with a group of students who largely will chase storms for only a day or two.
"It's just so cool to be right there" as a storm rolls in, Wrecke said.
He, too, stresses preparation and planning. He's recalled a couple of tense moments when his group temporarily lost an Internet connection and had to rely on information from friends back home with computers.
Once, they thought they were in a safe location when they looked up and saw a funnel cloud forming directly overhead.
The tornado blew out the side window of Wrecke's vehicle and briefly lifted another car in the group off the ground.
Usually, though, the Internet and global positioning satellites will show Wrecke the way. He said that storms can attract a crowd, sometimes hundreds of people.
He remembered one group of people in southwestern Kansas who particularly didn't seem prepared for the situation.
"They had been drinking all day long," Wrecke said. "That's not a very good situation."
Copyright 2018 The Lawrence Journal-World. All rights reserved. This material may not be published, broadcast, rewritten or redistributed. We strive to uphold our values for every story published.