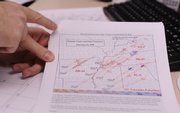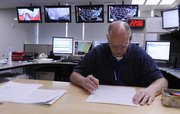 Norman, Okla. — On the day that Barack Obama was sworn in as president, the weather across the United States was fittingly peaceful.
Computers in the nation's Storm Prediction Center showed no signs of severe weather.
Still, the center operated as it would on the other 364 days of the year. There were four meteorologists monitoring the atmosphere and predicting what weather the nation would face in the next eight days.
Problem is, Mother Nature can be hard to predict.
"Nobody can just sit down in this job and be great or even good," said Greg Carbin, warning coordination meteorologist. "It takes many, many years of forecasting to get kind of a sense for what you need to be looking for when it comes to dangerous storms.
"You don't just get that out of books, and you don't get it in a year by looking at satellite data or plotting maps. You get it by having Mother Nature beat you up and trying to learn from what you missed."
Carbin, who has been a meteorologist for 23 years, said every day is different. Even on Jan. 20, he found interesting aspects in the winds and temperatures.
"It is constantly changing," he said. "It is remarkable that we do as well as we do."
Issuing watches
The center's forecasters won't soon forget 2008, when 74 tornadoes were reported between Jan. 7 and Jan. 10, an outbreak atypical for winter. Four people were killed.
A month later, a two-day outbreak of tornadoes began on Super Tuesday — Feb. 5. Eighty-seven tornadoes were reported and 57 people died.
"Bad things can happen when severe weather occurs," said Jack Hales, a lead forecaster who has worked at the center for 33 years. "Our primary motivation is to make sure we forecast as well as possible before those things happen, so people have a chance to take action."
They do this by issuing watches that are used by the 122 National Weather Service offices, emergency managers, televisions and radio meteorologists, private weather forecasting companies, the aviation industry and storm spotters. The watches also are posted on the center's Web site at www.spc.noaa.gov.
Hales said the center issues between 800 and 1,100 watches each year; last year, they issued about 900.
And they don't do this willy-nilly.
The forecaster calls every NWS office within the area that might be placed under a watch and discusses the conditions with them. After the discussion, the forecaster might add or eliminate counties or alter the type of watch, say from a tornado watch to a severe thunderstorm watch. The timing of the watch also may be changed. Then, the watch is approved by the lead forecaster.
Once the watch is issued by the Storm Prediction Center, the local NWS offices issue the warnings.
"We work very closely when we expect severe weather," said Jennifer Stark, warning coordination meteorologist of the National Weather Service office in Topeka, Kan. The office oversees 23 counties. "We use a lot of the products that they put out for guidance."
That collaboration continues until the threat of severe weather passes and the watches and warnings are canceled. But, the "heads up" ultimately begins at the Storm Prediction Center, which has 30 forecasters.
'Stressful' work
The job is tough, said Carbin, who has worked at the center for 13 years.
"It can be very stressful because you know that you've got to make a decision one way or another and when it comes down to a watch, you've got to issue the watch or you don't issue the watch," he said. "You never have all of the information; there's always going to be something missing. So, you've got to have the confidence to do it.
"There's just no way to know every aspect of the atmosphere — knowing the mind of God, I guess you could say."
Carbin said the center's thunderstorm forecasting is more accurate today than it was 10 years ago thanks to new technology. But, it's still hard to predict what storms will produce: hail, lightning, winds or tornadoes.
And that last one is a biggie.
"It's like finding a needle in haystack," Carbin said.
That's because they occur over a small area and in a small time frame. The center's goal is to have a tornado watch issued about two hours before the tornado is sited or formed.
"That's a pretty ambitious goal," he said.
Groundbreaking research
Last year, there were approximately 1,690 tornadoes in the contiguous United States that resulted in 126 deaths and 1,700 injuries. Those tornadoes caused $1.8 billion in property and crop losses.
Carbin is hoping to glean information from the world's largest study of how tornadoes form and dissipate. The $8 million study is called VORTEX2 (Verification of the Origins of Rotation in Tornadoes EXperiment) and is funded by the National Oceanic and Atmospheric Administration and the National Science Foundation.
The study is set to run from May 10 to June 15 of 2009 and 2010. It will involve radar, mobile vehicles equipped with instruments, weather balloons and research aircraft. The study will involve the Storm Prediction Center and the four other NOAA partners in the 250,000-square-foot National Weather Center on the University of Oklahoma's south campus in Norman. It also will involve OU and agencies outside the National Weather Center including Penn State University, National Centers for Atmospheric Research, Rasmussen Systems and Center for Severe Weather Research.
Harold Brooks, a research meteorologist with NOAA's Severe Storms Laboratory, said he hopes the project helps answer questions like:
• Why do between 10 and 20 percent of storms produce tornadoes and the others don't?
• What does the atmosphere look like right before a tornado forms?
"It's really important what goes on in the lowest few hundred meters above the ground in the last few minutes before a tornado forms, and that's a real challenging area to collect data in," he said. "There's a lot of danger involved."
Hales, of the Storm Prediction Center, said there are a lot of myths about tornadoes. The truth is they can develop anywhere and in any situation.
The threat of being struck by a tornado is small, he said, but if it's headed for you, you had better know what to do because they mean business.
"If it happens to you, then it's the biggest day of your life."
Weather Central
The National Weather Center opened in 2006 on a 22-acre site on the south campus of the University of Oklahoma in Norman, Okla.
The 250,000-square-foot, five-story building houses a unique alliance of OU, National Oceanic and Atmospheric Administration partners and state organizations that work together to improve understanding of atmospheric events.
The NOAA groups are the National Severe Storms Laboratory, Storm Prediction Center, Radar Operations Center, Warning Decision Training Branch and Norman National Weather Service Forecast Office.
About 550 people work in the building. This includes research scientists, meteorologists, climatologists, engineers, technicians and students. Approximately 400 students attend OU's School of Meteorology on the fifth floor. Among the building's features:
• A 360-degree observation deck. Researchers, forecasters and students get the unique opportunity to view a storm from the seventh-floor viewing area while also seeing what it looks like on their computer monitors.
• NOAA's Totable Tornado Observatory. The National Severe Storms Laboratory used the approximately 300-pound metal barrel in the mid-1980s to collect data on tornadoes. It was retired after 1987 because of safety issues. The movie "Twister" was based on Toto.
• Science on a Sphere. Planetary data is displayed on the 6-foot diameter sphere. NOAA primarily uses it as an education and outreach tool.
Copyright 2018 The Lawrence Journal-World. All rights reserved. This material may not be published, broadcast, rewritten or redistributed. We strive to uphold our values for every story published.