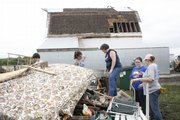 Many had foreseen the severity of the evening of June 11, 2008, hours before a tornado stuck Manhattan.
Despite two deaths and millions of dollars in damage, the response that occurred when most people would be in bed is considered a success.
The combined work of meteorologists and storm spotters, communication between the National Weather Service and emergency management leaders and training may have spared dozens of lives in northeast Kansas.
While there was a heightened risk of severe weather on June 11, the atmospheric environment did not appear as volatile as nearly one week prior, June 5, when much of northeast Kansas was under a "high risk" of severe weather.
This "risk" is issued by the Storm Prediction Center in Norman, Okla., and it gives meteorologists an idea of the expected extent, and type, of severe weather.
Dennis Cavanaugh, a NWS meteorologist in Topeka, said most eyes in his office were focused on northcentral Kansas for most of June 11, and that it looked like the worst tornado threat would be in Nebraska. As the day progressed, storms began to shift south, and accordingly, the SPC shifted severe weather risks south.
Topeka meteorologists followed several thunderstorms all night, but the team following the southernmost storm was especially busy.
"There was a forecast team watching that storm; they decided that the supercell was very likely to produce a tornado, even though it was after dark," Cavanaugh said.
Nighttime tornadoes are especially dangerous because they are difficult to see.
Trained storm spotters were important in helping meteorologists verify that radar indicated tornadoes were actually hitting the ground in Chapman and Manhattan.
"By the nature of our Doppler radar, you cannot see the tornado. You can see a lot of things that indicate that there is a tornado there, but we still need the spotters to tell us that there is a tornado on the ground," Cavanaugh said.
The storm spotters, meteorologists and NWS focused on the Chapman-Manhattan-Solider storm to issue early warnings. The timely nature of the warnings permitted Cavanaugh's team to have extra communication between northeast Kansas emergency management officials; additional efforts were made to ensure lead time in siren activation for communities ahead of the tornado's path.
"It gives everybody second and third chances to get information, so that they know that it is a very serious problem," Cavanaugh said.
Wall-to-wall coverage from broadcast television outlets further emphasized the severity of the weather situation in northeast Kansas. Like storm spotters, station skycams offered a real-time visual of the impending danger. KTKA-TV 49 skycam in Manhattan, on top of Ford Hall on the K-State campus, provided confirmation that a tornado was hitting the city, even though the tornado was only radar-indicated at the time.
"That helped increase the awareness that 'this is really happening, I need to take cover now,' " Cavanaugh said.
Pat Collins, Riley County Emergency Management director, said this event was mostly successful. He commended the joint effort and organized communication between meteorologists, storm spotters and media for reasons as to why this event resulted in a low loss in life, and caught few unaware. Still, egos needed to be humbled, he said.
"We're headed in the right direction. We need to keep up planning. We need to prepare more people," Collins said.
This devastating severe weather event occurred during prime severe weather season, when everyone was especially wary. Results proved that northeast Kansas had a well-prepared emergency infrastructure that operated well.
The concern is what would have happened if the storm occurred even later at night. With TVs off, and modern construction muting siren cries, many might have missed the warning.
"If you're asleep, something's got to wake you up to say, 'Hey, there's a problem,' " Cavanaugh said.
Meteorologists and emergency management officials said activated weather radios could have played a significant role in making June 11 events successful. While Collins agreed, he stressed another intimidating point: much of the destruction occurred in well-built homes, with basements.
"Because this was a newer area of Manhattan … a lot of people had basements, and a lot of people had safe rooms, and I think that helped," Collins said.
Collins extended his concern for apartment complexes as well.
Copyright 2018 The Lawrence Journal-World. All rights reserved. This material may not be published, broadcast, rewritten or redistributed. We strive to uphold our values for every story published.