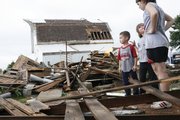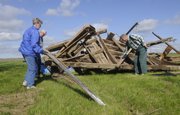 It took only seconds for the tornado to move through your neighborhood.
The recovery process and repairing the damage to your home could take days or even weeks. Assuming you aren't injured, you now have to work with your insurance company and find a contractor to make repairs.
How long the recovery process takes and how well you are compensated for your losses will depend on what steps you had already taken to protect yourself in case of just such an emergency.
"Preparation for storm coverage situations really needs to include insuring items other than your home and your autos," said Bob Hanson, spokesman for the Kansas Insurance Commissioner's office. "Personal property such as jewelry, china, silverware and art are often overlooked by policyholders."
You should fill out a personal home inventory booklet or make a list that will track and categorize your possessions, Hanson said. Have photos of the items along with the list and place them in a safe deposit box or a good storage place away from your home, he said.
You should also make sure your auto insurance has a provision for renting cars, Hanson said.
Not all insurance policies cover water and windstorm damage, debris or tree removal, sewer backup problems caused by flooding or sump failure. Know ahead of time if you are covered in those areas.
After the storm, contact your insurance agent or company immediately. Then keep a record of your conversations with them. Write down the date and time of the conversation and the name of the person you talked with.
You can find other insurance tips at the Kansas Insurance Commissioner's Web site: www.ksinsurance.org/consumers/stormflood.htm.
When looking for a contractor, be aware of questionable or unfamiliar companies or individuals. And get more than one bid for the work.
If your city requires a contractor to be licensed, as the city of Lawrence does, check with city hall to make sure that they are.
"That means (the contractor) has workers compensation and a general liability insurance policy and that they are getting continuing education," said Bobbie Flory, executive director of the Lawrence Home Builders Association.
Flory also recommends contacting the local trade association, such as Home Builders, and see whether a contractor is a member.
"If they are a member of their own trade association, then they are conscientious enough to stay on top of education and networking with their peers in the community," Flory said.
A homeowner also should ask a contractor for references and then call them, Flory said.
When major storms cause considerable damage in a town, expect contractors to be deluged with calls. Under normal circumstances the marketplace determines the number of contractors in a community, and that could mean a long waiting period for repairs.
"If it's something that is unsafe, then hopefully that can be taken care of first," Flory said.
Copyright 2017 The Lawrence Journal-World. All rights reserved. This material may not be published, broadcast, rewritten or redistributed. We strive to uphold our values for every story published.