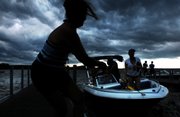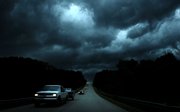 The early morning hours of May 2, 2008, turned ugly in western Douglas County.
At 1:30 a.m. as the winds picked up and the weather became rougher, Tina McIver knew it was time to take shelter in her house west of Clinton Lake.
As a tornado ripped through the area and destroyed an empty house a few hundred feet away, she ducked under furniture. Her roommate, Brenna Muntzert, Muntzert's two children and their dog also braved out the storm that shook the house.
McIver received an automated text message from The Weather Channel telling her to take shelter.
"Without that, I don't know that we would have woke up in time," McIver said the next day.
The tornado's speedy arrival is not an uncommon occurrence during severe weather season in the Midwest, said Alex Norman, a Douglas County Emergency Management staffer.
"We can't predict when emergencies and disasters happen, and the best we can do is prepare for them," said Norman, whose position is funded by a grant from Americorps. "The better that you prepare for them ahead of time, the better you're going to be able to manage them afterward."
Making a plan is a key task, she said.
Shelter
One of the most important tasks is designating shelter. If you're at home or inside a building, designate a place, preferably a basement, as your shelter. If you can't get to a basement, move to the lowest level possible and find a room in your house with no windows and the most walls between you and the outside.
Other preparations
Talking about plans ahead of time with your family also can help when a disaster strikes.
The Web site ready.gov has helpful information, including a Family Emergency Plan sheet where adults can write down important contact information and other vital financial and other details. The list should be kept in a safe and secure place, away from the home. If a major disaster strikes, victims won't have to hunt through rubble or some other hardship if they need to speak to their bank about an account, for example.
Jillian Blair, assistant director for Douglas County Emergency Management, said it's also best to designate a meeting area for your family after a disaster. In case your house is destroyed, make it near the street corner or some other nearby place your children would feel safe, she said.
Before the storm arrives, it's best to keep your eye on the weather by checking on news reports or having a weather radio in the house.
"It's having different options and knowing how you can get that information ahead of time," Blair said.
Copyright 2018 The Lawrence Journal-World. All rights reserved. This material may not be published, broadcast, rewritten or redistributed. We strive to uphold our values for every story published.