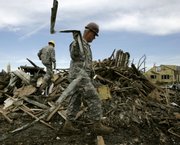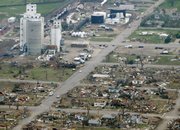 It takes a lot of sweat, patience and manpower to clean up and rebuild after a severe storm.
After the worst storms, the National Guard is deployed to assist those in need. While many citizen soldiers are busy overseas, help is always available, said Kansas National Guard spokeswoman Sharon Watson.
But while the number of guard members is sound, available equipment may be limited to assist in a timely fashion. Kansas emergency management officials and the guard routinely exercise disaster plans.
The Kansas National Guard has 7,700 members — 5,600 Army Guard and 2,100 Air Guard, Watson said. As of Jan. 21, 399 guardsmen were stationed in Iraq or Afghanistan.
Response efforts are set into motion once the governor, who is commander in chief of the national guard, decides recovery efforts are needed. Normally, this occurs once supplies and manpower are exhausted at the local scale, or if the disaster is already perceived as being too significant.
"State resources can be brought in as counties exhaust resources in any disaster, and these resources include all state government agencies (Highway Patrol, social services, health and environment resources, Department of Transportation, etc.) and then federal resources can be brought in as well," said Watson.
"There could be a challenge for us; however, if we were to have multiple disasters at once and not have all of the equipment we need to do the job. We work to ensure our equipment is dispersed around the state as best as we can."
Having fewer trailers, as was the case following the Greensburg tornado in 2007, may result in a delay in delivering equipment to a disaster zone in a timely fashion.
"We were short on trailers to haul our equipment there, and we had to make multiple trips to get all of our equipment to the disaster area," Watson said.
Watson says equipment sent overseas often stays there for other deployed units to use. Once it is sent back, it needs to be refurbished before it can be used again.
Watson said state leaders are pressuring Congressional authorities in Washington, D.C., to guarantee an increase in equipment availability during times of war.
"Changes have been made by the Department of Defense in recent years to shorten the delay," Watson said.
Emergency plans are required for all 105 counties in Kansas. All of these plans are in place, and the state continuously reviews the plans every four years. When the state intervenes, and the National Guard is activated, you can expect them to be very prepared.
According to Watson, guard members train for disasters once a month and each Guard unit exercise disaster scenarios an additional two weeks per year. Members provide additional resources to local law enforcement. They can evacuate people by truck; and, if flood waters or too much debris exist, will airlift evacuees.
"Most National Guardsmen also work full time in Kansas, so some of them have jobs with police and fire, and other emergency response positions, which brings additional knowledge to the local disaster response efforts," Watson said.
Copyright 2018 The Lawrence Journal-World. All rights reserved. This material may not be published, broadcast, rewritten or redistributed. We strive to uphold our values for every story published.