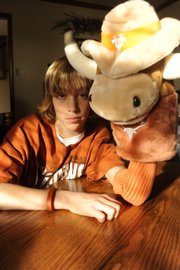 After Kansas University won the NCAA National Championship, people said it wouldn't have happened without Mario Chalmers. He won the game with that shot, right? You're wrong. I won it.
Until halftime, I was in a certain position on the floor that I held during the whole North Carolina game. At my grandma's house the 'Hawks started to lose. Coincidentally, my mom had told me to stop that luck thing because it was weird.
With four minutes left in the game, our family went home. My dad and I turned the game on to watch the ending. There were two minutes left. Since my mom wasn't there, I got into the lucky position. We started to come back.
To my dismay, my dad called my mom into the room with one minute left. She told me to stop doing my good luck charm, but I held my ground. On the last play in regulation, I was still in my lucky position and Mario hit the shot. I held it throughout overtime.
That is why I won the NCAA Men's Basketball Championship. I didn't even get a ring.
But I am not the only person to believe in luck. With March Madness right around the corner — and Friday the 13th a few days away — there are plenty of people who believe in good and bad luck.
Jacob Caldwell, an eighth-grader at Southwest Junior High School, is especially superstitious. One Friday, he saw a black cat. That same day he had the worst baseball game of his career. Whenever Texas is playing, he has his lucky stuffed Longhorn present.
For every other sporting event, he has his own position.
"I sit on the bed or the couch during games. The floor is bad luck," he says.
Mackenzie Breithaupt, another Southwest eighth-grader, also believes in luck. In fact, she is even afraid of bad luck. She doesn't do anything for good luck, but on the day of a KU game, her dad is wearing his lucky underwear.
There are also those nonbelievers. Southwest eighth-grader Katelyn Todd says luck does not exist.
"I don't believe in luck because it all seems unreal to me," she says.
Maybe luck exists, maybe not. Maybe it's stupid, or maybe it's not. No matter what, luck is fun to believe in. Next time KU is losing, switch to a new position. It doesn't hurt to try. And if you don't, you just cost us the National Championship. Thanks.
Copyright 2018 The Lawrence Journal-World. All rights reserved. This material may not be published, broadcast, rewritten or redistributed. We strive to uphold our values for every story published.