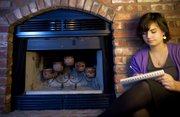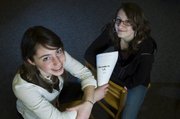 Spring break to-dos in town
At the Lawrence Public Library, 707 Vt. • March 16: "Charlotte's Web" reading, 1:30 p.m. • March 17: Act up for Fun!, 1:30 p.m. • March 18: Paper bag puppets, 1:30 p.m.; "Beauty, Body and Soul: A Day at the Spa," 3 p.m.-5 p.m. • March 19: Dances of India, 1:30 p.m.; DIY T-shirts, 3 p.m.-5 p.m.
At the Kansas University Natural History Museum, 1345 Jayhawk Blvd. • March 16-20: Hands-on activities and demonstrations, 10 a.m.-3 p.m.
At the Lawrence Community Theatre, 1501 N.H. • March 16-20: "Snow White: The Musical" weeklong theater workshop for students, 9 a.m.-3 p.m.
At the Lawrence Arts Center, 940 N.H. • March 16-20: "Circus and Busker Camp for grades 3-8. Call 843-2787 for more info. • March 16-20: Film camp for grades 7 to 12, 9 a.m.-3:30 p.m.
This year's hot spring break destination is decidedly much closer to home — as in inside the house.
The sagging economy means that many children and teens around Lawrence aren't going to be having the spring breaks of the movies: big, beachy vacations where memories are made and brain cells killed. Instead, many will be doing more grown-up things, like saving money, during spring break, which begins March 16.
Emily Corliss is a senior at Free State High School. Normally, she'd be burning rubber, hitting up as many national parks as possible in a week with her parents and two sisters. This year, her final year before heading to college at Kansas State, she'll be at home trying her darndest to find a job and not spend the money she does have.
"I'm doing a trip during the summer to go to Romania with a church youth group," Corliss says. "So, during spring break, I'm just hanging out here with my family and going to visit grandparents but being aware that I'm saving money to go on this trip to Romania."
Kayla Miller, a ninth-grader at Southwest Junior High School, says that though she's not saving up for anything, her spring break will be just like any other week — only without school. The trip to Texas her family sometimes takes during break isn't happening this year.
"Most of my friends and I are just staying in town, and some of our friends are having parties," Miller says.
Jordan Wittbrod, a sixth-grader at Sunflower School, says that for him, the ideal spring break wouldn't be that far from home, anyway.
"I would probably go to Clinton Lake if I ever had a boat and a fishing pole," he says.
Even those who do plan to go somewhere, are doing so with a budget in mind.
Maggie Hull, a senior at Free State, usually stays home with her family on spring break. But she wanted to spend her senior year taking a trip to somewhere outside Kansas. She got her wish and a trip to Chicago. The cost is only $265 — which, of course, benefits her bank account, but at the same time benefits people in need. The trip, through the school's Social Awareness Club, is the first of its kind.
"We wanted to do something different for spring break other than just the typical beach or something like that. We wanted to be useful," Hull says. "Some of the different activities that we're doing are a neighborhood cleanup. We're handing out fliers about domestic violence. We're going to be serving food to the homeless. We're going to be working with women and children that are homeless. And we're going to be shadowing students from a charter school."
To keep costs down, the group is staying with friends and at a hostel and taking the train and a bus, rather than flying.
Central Junior High ninth-grader Rosie O'Brien is also getting a learning experience, just at home. She's part of a project called "Hands in Film." She'll be the production director for the independent film project, which will include students from Central and West junior high schools.
"Usually we travel to my grandparents', or I hang out with friends over spring break. Usually not totally exciting other than the fact that we're out of school," O'Brien says. "This is definitely the first spring break that I've ever had that has been totally taken up with something I feel this strongly about doing."
And she doesn't even have to leave Lawrence.
Copyright 2018 The Lawrence Journal-World. All rights reserved. This material may not be published, broadcast, rewritten or redistributed. We strive to uphold our values for every story published.