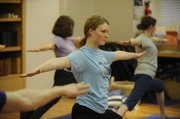 Even if you have to use a can of peas or an old paint can to exercise your biceps and triceps, Rick Sells knows it's possible to become a healthier, leaner person.
And for people who have decided to take the winter off, getting in shape now is easier than ever.
"First thing is, go into it very slowly," says Sells, owner of the Lawrence Athletic Club. "They can walk. They can ride a bike. Basically that's going to work on the cardiovascular."
Doing a few simple stretches and repetitions every day is a good way to start, Sells says.
"I tell people to just walk to the mailbox and back two or three times a day," he says. "Then walk around the block."
Although Sells says it's possible to work out at home, he suggests joining a club or enrolling in a class.
"People will tell themselves they are going to do something, but they put it on the back burner," he says. "Working out at home is a good idea, but unless you're strong-willed, you won't."
Jack Krebs, co-owner of the Yoga Center of Lawrence, wouldn't disagree. He sees the value of joining classes — even if it's in the spring.
"Yoga is something that people can start any time," he says. "In fact, it's a very good thing for people who haven't been exercising to start because in yoga, you always start from where you're at."
Not only that, but Krebs says the Yoga Center offers spring session that starts right after spring break.
"We always have introductory courses for people who are brand new," he says. "Yoga, being a non-competitive fitness activity, is the kind of thing that there is a place in it for everyone."
Even though Krebs would suggest enrolling in a yoga class or two, he knows some people would rather work out at home.
"It is something that once you learn a little bit, you can easily do at home," he says. "There are simple little stretches. If somebody spends all day sitting in a chair, take 15 minutes to do a simple stretch."
Sells suggests purchasing a home workout manual or exercise videos to help stay in shape at home.
"If they want to do it at home, there are a lot of guides out there," he says.
One exercise that Sells says should be avoided is the floor crunch.
"When they are showing you that person on the floor doing crunches, they are doing them wrong," he says.
Instead, Sells suggests doing crunches in a chair. And if you're feeling really energetic, Sells says you can always use a can of soup to work out your arms.
"People need to understand that they didn't get out of shape overnight, and they aren't going to get in shape overnight," he says. "Muscle has memory. Be sensible and think about what you're doing and don't get in a hurry. Be repetitive. Don't give up."
Copyright 2018 The Lawrence Journal-World. All rights reserved. This material may not be published, broadcast, rewritten or redistributed. We strive to uphold our values for every story published.