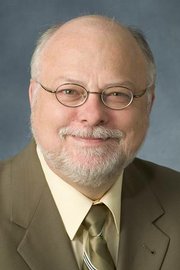 Kansas University Chancellor Robert Hemenway on Monday named the dean of KU's College of Liberal Arts and Sciences as its interim provost.
Joseph Steinmetz has served as the dean of KU's largest academic unit since 2006.
He will work with Provost Richard Lariviere, who Steinmetz said will retain his title until the provost leaves. Both Lariviere and Hemenway are expected to leave their posts on the same day this summer.
Lariviere is expected to be confirmed as president of the University of Oregon later this week, and Hemenway has announced he intends to step down from the chancellor's post effective June 30.
Steinmetz said working on a smooth transition will be his top priority.
He said he is working to get up to speed on what is going on throughout the university. He said he anticipates continuing work on financial matters in a difficult time, as well as other policies, including an attempt to revamp admissions standards.
Steinmetz came to KU from Indiana University, where he was executive associate dean for the College of Arts and Sciences and chairman of the psychology department. He maintains a neuroscience research lab at KU.
Hemenway praised Steinmetz as an experienced, highly-regarded leader.
"During the remaining months of this academic year, Joe will work closely not only with the leadership team in the provost's office but also with me," Hemenway said in a statement.
Steinmetz said that while he is interested in academic administration, he didn't know if he would want the full-time provost position at KU. He said that because it's still unknown who the next chancellor would be, and because a provost reports to the chancellor, he couldn't say if the position would appeal to him.
"I really want to help the institution make the transition at this point, so that's where I'm focusing," he said.
The next chancellor will have other decisions to make, including determining a search process for a new provost and what to do about the dean of liberal arts position.
Until that time, Steinmetz will continue indefinitely as dean in addition to his new role, said Lynn Bretz, a KU spokeswoman.
"I just want to make sure that I give the attention that both of the positions deserve and need," Steinmetz said.
He said that by working in a college that enrolls nearly 17,000 students and has 53 departments, he was used to existing in a rather large-scale environment.
"It just got larger," he said.
Copyright 2018 The Lawrence Journal-World. All rights reserved. This material may not be published, broadcast, rewritten or redistributed. We strive to uphold our values for every story published.