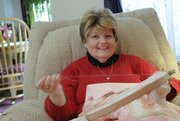 Carolyn Lasher's first foray into farming in her mid-30s resulted in her reviving a dying piglet with cold medicine, keeping 100 baby chicks in her garage and running for a school board seat to prevent children from pushing school buses.
"My husband and I didn't know anything about farming," she admits. "He'd always wanted to live on a farm, and we thought it would be a good place to raise kids. We built a house on his parents' farm near McLouth, and within a week of moving his father died, his mother moved away and we were left to manage 80 acres of farmland."
Lasher, who graduated from Tonganoxie High School, married her husband, Arthur, shortly after meeting on a blind date, and they settled in Olathe. They both wanted lots of children, but after nine years of marriage and one child, they decided to foster babies.
"After fostering newborns we knew we could love them as our own and decided to adopt," she says. "Nine months after applying we got our daughter Rhonda, and then our son Dean was born. We moved to McLouth shortly afterwards."
She says they were clueless but started by buying a cow from a neighbor who gave them instructions about milking.
"Our barn wasn't in good shape and we didn't have a stanchion, so I had to hold Bossy while Arthur milked her," Lasher says. "It took us forever until we got the hang of it. Bossy produced lots of milk and calves over the years."
Chickens were the next acquisition.
"We quickly learned you shouldn't get 100 chickens before building a henhouse. Raising them in the garage under your bedroom isn't a good idea," she says laughing. "They're cute when they're small, but the cuteness soon disappears. We discovered we had 96 roosters and four hens, so ended up having more fried chicken than eggs."
Next up was Petunia the pig. Lasher helped Petunia deliver twins, but only one survived. They kept it in the laundry room and fed it milk from a rubber glove every four hours. They later moved it to the newly built chicken house where Lasher found him one night lying cold and lifeless.
"Arthur said he was gone, but I wouldn't listen," she says. "I carried Porky into the house, laid him by the fireplace, rubbed Vicks on his chest and nose, and gave him a pill my daughter had taken for a cold. Two hours later he was up running."
Lasher also fostered 10 children who loved living on the farm.
One wintry day she looked downhill from her farmhouse and saw a group of schoolchildren pushing a school bus along the icy road.
"I called the school board to express my concern about the kids' safety, but nobody did anything," she recalls. "I decided there and then to run for the board myself. I won the seat, served for 16 years, and kids didn't push buses again."
Lasher's husband died in 1977, and the day after his funeral her children moved her into Lawrence. She says the timing worked for her.
"I'd have given anything to have Arthur back," she says, "but life had to go on, and I knew I had to keep busy."
Copyright 2018 The Lawrence Journal-World. All rights reserved. This material may not be published, broadcast, rewritten or redistributed. We strive to uphold our values for every story published.