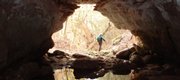 From hidden caves that welcome visiting bats to massive deposits of salt, oil and natural gas that fuel the economy, the Sunflower state boasts a subtropolis of fascinating features, vast resources and untapped opportunities. Join us for a look around underground.
Each day, workers blast, scoop up, crush and haul tons of salt to the surface — part of an underground operation that's been mining away at a massive vein of sodium chloride that shows no signs of slowing down.
And, in Kansas, it's only the beginning.
From salt that treats roads to oil that fuels cars, and from natural gas that warms homes to gypsum that fills their walls, Kansas residents living above ground have plenty to be thankful about when considering what's available down below.
Even if they're largely unaware of the largess.
"It's our little secret," says a chuckling Martin Dubois, leader of the Hugoton Asset Management Project, an effort to detail and maximize resources of the largest natural gas field in the western hemisphere.
The project is financed by energy companies that own a majority of the natural gas in the Hugoton field, the 10,000-square-mile swath that just happens to be the largest onshore gas field in North America. It's also the largest such repository in the western hemisphere.
The hub of the sprawling field, of course, is right here in Kansas — actually underneath Kansas, stretching as far as 8,000 feet below the surface.
The field's hidden nature belies the massive effects it spurs above ground: Some 12,000 wells start at the surface, then typically burrow a half-mile deep to pump out enough natural gas each year to serve 1.5 million homes.
Total sales in 2007: $2.37 billion, and that's just in Kansas. When oil is added into the mix, Dubois points out, the revenue total climbs to $4.71 billion, or enough for energy to eclipse either agriculture or aviation as the state's biggest industry.
"Most people in Kansas, unless they're associated with the oil and gas industry, do not know the impact of the industry on the economy," said Paul Willhite, a professor of chemical and petroleum engineering at Kansas University, whose been following such resources since 1962.
Salt for the roads
Kansans may not realize it, but much of their winter driving is preserved with material dug out from under fields at the edge of Hutchinson.
Hutchinson Salt Co. is a working salt mine, stretching 645 feet down into a vein of salt 300 feet thick, left behind by the drying of ancient seas some 230 million years ago.
The first mine shaft went down beginning in 1922, and workers have been running equipment in relative comfort — constant conditions of 68 degrees, with 40 percent humidity — ever since.
Unlike coal miners, who may toil for decades before getting a chance to finally work "topside," salt miners actually prefer to be taken down below, said Max Liby, mine manager at Hutchinson Salt.
Never mind that it's farther down into the mine than the Gateway Arch in St. Louis is tall.
"It's not for everybody," Liby says with a grin, as he hands over belts holding old-style breathing apparatus to two visitors, "just in case" a fire breaks out. "We have contractors who come in and can't wait to get back to the surface."
Each year the mine can produce 500,000 tons of salt, typically used to treat ice- and snow-covered highways, roads, bridges and even driveways. And it's no small job; by comparison, the Kansas Department of Transportation uses a little more than 100,000 tons to handle its responsibilities statewide during a typical year.
One more note on the company's salt: While it isn't quite pure enough for table use, the fine powder filling the air near the mine face just might fool you.
Take it from Liby, who's been known to lick a wall or two: "It's salty."
Gypsum for the walls
The so-called "Gyp Hills" in south-central Kansas have earned their name, with the source of their namesake reaching below the surface.
That would be gypsum, the name given to the soft mineral — a combination of calcium sulfate and water — that has been excavated and mined in Kansas since the 1860s. The substance is used to make what is known as wallboard, the building material that forms the smooth walls of homes, offices, commercial buildings and most any other structure around.
The use of gypsum is nothing new, having been included in plaster for building the Egyptian pyramids.
National Gypsum Co., which has a collection operation and wallboard plant in Medicine Lodge, both mines and quarries gypsum rock, then crushes and grinds it before baking it to remove chemically bound water.
The company then fortifies the material with starch and other additives, including water, to form a stucco slurry. The stucco then is sandwiched between two sheets of paper, where it hardens and forms gypsum board.
Gypsum also can be used as an additive for cement, and to create Plaster of Paris and alabaster.
"There's a lot of it down there," said Doug Wilson, director of the conservation division at the Kansas Corporation Commission.
Copyright 2018 The Lawrence Journal-World. All rights reserved. This material may not be published, broadcast, rewritten or redistributed. We strive to uphold our values for every story published.