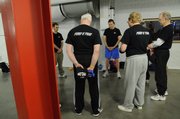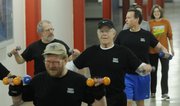 It starts with a prayer, ends with a healthy sheen, and in between is a great, low-impact workout.
It is Pump 'N' Pray, a men's workout group formed by members of Trinity Episcopal Church. Spearheaded by Dr. Stephen Segebrecht, a church deacon and surgeon, the group meets three days a week for faith mingled with fitness and a dash of kinship.
"I believe that we need to take good care of ourselves. There is a biblical foundation for that. Our faith states that the body is the temple for the Holy Spirit. If we are to be good stewards of that which God has given us, then we take care of ourselves," Segebrecht says. "As a physician as well as a person of faith, I believe that we need to take care of ourselves. I thought that it would be nice to start something at our church that would be a way to improve one's health. Not only that, but also to bring in another aspect of faith and to provide something for men at the church, which often it doesn't seem like there's that many things available for men at churches."
With that goal in mind, Segebrecht approached a few church members just after Thanksgiving about beginning a men's workout group. After a successful pilot program, Pump 'N' Pray was opened up to the entire church. Now, as many as 14 men meet Monday, Wednesday and Friday in various locations around Lawrence for the 30-minute workout, which includes brisk walking in tandem with light weight work.
"It is an exercise program in which we walk and then we use free weights. They're used in a fashion that increases body core strength. So, when we're done with this, people have firmer backs, abdomens, chests, upper arms, and so it leads to less back fatigue and (more) strength. Body core strength is what we're focused on with a rapid walk," Segebrecht says. "We get in about two miles."
But the men of Pump 'N' Pray get much more out of the workout than just firmer bodies — it's also a platform to learn about health and each other.
On Fridays, Segebrecht gives a brief weekly clinic about a men's health topic. He has spoken about everything from prostate cancer to the Mediterranean diet.
In addition to the health aspect, the men have gained friends and formed a unique social network.
"We have three services, one at 8 a.m. on Sunday, one at 10:30 and one at 6 p.m., and some of the people from different congregations don't know each other very well," says Father Paul McClain, curate at Trinity Episcopal, 1011 Vt. "So it's been a wonderful opportunity to do that. For many of these congregates, the first time they met was shaking hands before Pump 'N' Pray."
And the same goes for McClain, who has been in Lawrence less than a year.
"And for me as the curate, the associate priest here and a relative newcomer to Lawrence, it's been great to get to know the men," McClain says. "I try to pick a new man to walk with each time and learn about what their job is, what's going on with their family. And the other men are doing the same things. We've all gotten to know each other so much better."
That camaraderie was something that Segebrecht hoped would happen after seeing it first-hand as a participant in Lawrence's longtime fitness program, Red Dog's Dog Days.
"My inspiration to for using this as a sense of community and adapting it to church comes from (Don) Red Dog Gardner from Dog Days. Because what he does really creates a sense of community in Lawrence. and it's intergenerational, people of all ages participate," Segebrecht says. "So, I thought that would be a really neat way to build a sense of community amongst men at church that usually doesn't exist."
It's worked for John Emerson, 80. Pump 'N' Pray has replaced his normal workout routine, and he couldn't be more pleased with the melding of mind, spirit and body.
"I think it's great," Emerson says. "And with our priest and our deacon, you've got the leadership in prayer. It really is inspirational."
Copyright 2018 The Lawrence Journal-World. All rights reserved. This material may not be published, broadcast, rewritten or redistributed. We strive to uphold our values for every story published.