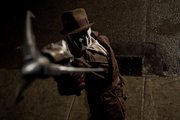 The "Watchmen" trailer was first revealed to the public last July as a lead-in to "The Dark Knight."
The reaction was immediate.
"Once the trailer came out, that was the most response to a comic book movie I've ever witnessed," recalls Joel Pfannenstiel, owner of Astrokitty Comics, 15 E. Seventh St. "After that we experienced weeks of people I'd never seen before coming in looking for the 'Watchmen' comic."
Today, after nearly two decades in stop-start development, the long-awaited "Watchmen" hits theaters. Widely hailed as the "Citizen Kane" of comic books, the movie adaptation is being met with a feverish mix of anticipation and apprehension.
"The idea of the movie gives me geek goosebumps," Pfannenstiel says, laughing.
Pfannenstiel describes the 1986-'87 graphic novel by writer Alan Moore and artist Dave Gibbons as "bridging that gap between art comic, superhero comic and fine piece of literature." He believes much of why the movie is so appealing to people is because of its singular nature.
"It's a lot easier to get into these characters and not feel overwhelmed by the mass amounts of comic books that have been written. 'Watchmen' is just one self-contained story," he explains.
Jai Nitz, a Lawrence-based writer who has a long track record with Marvel and DC Comics, calls "Watchmen" the most anticipated superhero movie yet attempted.
"We've had Superman before and Batman before. But this is truly new. 'Watchmen' is the best comic book ever made, so for people who know, read and love comic books, it's at a higher level than any other movie."
Nitz saw an advance screening of the film on Tuesday and was primarily pleased with the results.
"It was grand in scope and in effort, and its hubris was amazing. It really shot for the moon. I think it hit the moon," he says.
Others are not so optimistic.
"I have an employee who is refusing to see it because he's a purist," Pfannenstiel says, mentioning that the co-worker is also involved in spreading an anti-"Watchmen" petition on Facebook.
Whether this widely hailed adaptation of an enormously popular novel will stand the test of time is anybody's guess — for every "Gone With the Wind" triumph in Hollywood, there are plenty more "Da Vinci Code" washouts.
Pfannenstiel says, "Since the beginning of (cinema) they've translated novels that were precious to people. That's just what happens."
Copyright 2018 The Lawrence Journal-World. All rights reserved. This material may not be published, broadcast, rewritten or redistributed. We strive to uphold our values for every story published.