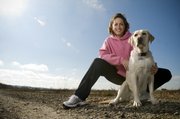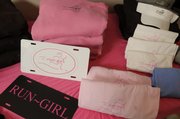 Go Click It
Web sites about running, fun and fitness.
• www.runnersworld.com The popular running magazine's Web site, with daily updates, a DIY personal training coach and searches for races and running shoes.
• www.runnerslounge.com This active community offers tips, blogging and ways to connect with local runners.
• www.marathonguide.com Articles and planning for your first marathon, regardless of your present physical condition.
• www.bostonmarathon.com Check out info about the granddaddy of marathons.
Find your spirit.
Those three words serve as inspiration for Marsha Odgers, personally and professionally.
They reflect how she feels about running — the sport she loves — and are the theme for her related business, Run~Girl, which offers clothing and accessories for female runners.
Odgers, a Lawrence mom of two, launched Run~Girl in 2006 as a part-time pursuit and has since been learning the ropes of operating a small business.
She created the first shirt featuring her Run~Girl logo in December 2005 for her running group's holiday gift exchange. When the women saw the shirt and logo, the response was overwhelming. That made Odgers think: "Maybe I have something here."
But overcoming her doubts proved as challenging as the final miles of a marathon.
"It's like your own food," she says. "It tastes good to you," but it can be surprising when others like it too.
Since building the courage to launch Run~Girl, Odgers has worked to build the business. Her first order of three dozen T-shirts sold in a week.
"I think it's the personal touch," she says. "People say, 'This is so cool. This is so great that you're promoting women and fitness.'"
Right now her Run~Girl merchandise includes long-sleeve shirts, hooded sweatshirts, jewelry, hats and visors, and she has added Walk~Girl items. Sales are done through word of mouth, the Internet — www.rungirlonline.com — and house parties. While Run~Girl is a home-based business, she'd like to get her merchandise into stores.
Most of all, Odgers is thrilled that her products are promoting fitness. "People are buying merchandise to reward running," she says.
For now Run~Girl is a side job, but Odgers would like to make it more. She has worked as a registered dental hygienist for 12 years, including almost five years part time at Legends Drive Dental Center, but has a business degree with a minor in fashion merchandising.
Despite her busy double-work schedule, she always makes time for running. Odgers is running her fourth marathon, the Route 66 Marathon in Tulsa, Okla., and hopes to participate in the Boston Marathon someday.
For now, she's happy to be running into people she doesn't know wearing Run~Girl shirts.
"I want to scream, 'That's my shirt!'" she says. "You wonder the story behind it."
Copyright 2018 The Lawrence Journal-World. All rights reserved. This material may not be published, broadcast, rewritten or redistributed. We strive to uphold our values for every story published.