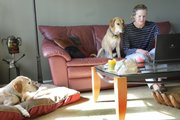 The English playwright William Congreve wrote, "Music has charms to soothe the savage breast, to soften rocks, or bend a knotted oak." But can music soothe dogs, too?
Skip Haynes, of Laurel Canyon Animal Company, says it can.
Haynes and Dana Walden, his partner in the Los Angeles-based firm, have created a CD titled "Songs to Make Dogs Happy."
"We had been doing music about animals for animal lovers for years when we decided to create a CD specifically for dogs," Haynes says.
He and Walden contacted Kim Ogden, an intuitive animal communicator in Chicago, who tested the music on focus groups of more than 250 dogs from across the country. Ogden determined the dogs' preferences in music and content, then crafted a CD.
"The response to this CD has been overwhelming. We've received hundreds of letters and e-mails telling us how much dogs love the CD and how it has helped with separation anxiety and to calm pets," Haynes says.
Pat Phillips, Lawrence dog owner, tried the sample cuts of the CD available online and reported that her dogs, Kelsey and Georgia, responded to the sound of squeaky toys and dogs barking, but didn't seem particularly interested in much else.
"Maybe if we sang around the house or listened to music more with them, then it might have had a bigger effect. They don't usually respond to music unless we try to make them dance with us," she says.
But Phillips does believe dogs do pick up on how their owners are feeling.
"When we're relaxed, they just sit and chill out, but if we're rushing around or acting stressed, they become anxious and are a little more high-strung," she said.
Haynes said his company has donated hundreds of copies of the CD to animal shelters across the country, where it helps to calm and cheer up anxious dogs.
Midge Grinstead, director of the Lawrence Humane Society, says they don't currently use music at the shelter, but she believes it could have a positive effect.
"I'm a big believer in people noise being a good thing with animals. I think music could be calming and would let your dog know he or she is not alone," Grinstead says.
Hear sample tracks at www.petcds.com.
Copyright 2018 The Lawrence Journal-World. All rights reserved. This material may not be published, broadcast, rewritten or redistributed. We strive to uphold our values for every story published.