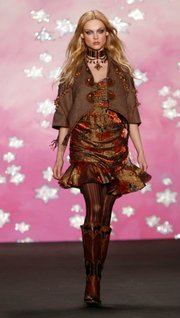 Mass St. Chic columnist Caitlin Donnelly wraps up her take on New York Fashion Week with a focus on what looks will successfully translate to the Sunflower State.
Max Azria:
The high-end fashion line Max Azria has been a showstopper since its creation three years ago. Max and Lubov Azria do more than their fair share in the realm of fashion — along with their namesake line, the Azria design team is behind looks for BCBG and Herve Leger. Still somehow, they always have fresh ideas.
For fall 2009's closet, MA is texture. Clothing made of lace, suede, heavy felt and flowing mesh materials were mixed and matched and plentiful, accompanied by sharp, geometric leather jackets to maintain structure. To fit into the MA's runway lineup, mix up the cuts of your clothing, not just the texture. Try new, loose-fit bodysuits and uneven hem lengths (mini-skirt front hem, floor-length back hem was one unexpected, but successful look).
Anna Sui:
Every piece in Anna Sui's runway collection is fabulously flattering, unique but not unnecessarily flamboyant and completely wearable, even in Lawrence.
Anna Sui mixes and matches her pieces, creating a hot, rockabilly style. She places patterns and hues successfully side by side by sticking to a core fabric or color group. Anna Sui's fall line looks fun to wear, and it seems to cross over into several decades. Younger girls can liven up the already frilly, funky patterned outfits with bright hats and boots (for example, her model walked in a deep-purple, knee-high boot), and those afraid of "dressing too youthfully" will be safe in the versatile outfits worn with a more neutral jacket or trouser addition.
Project Runway:
If you follow "Project Runway" and are still sulking about the absence of Season Six, check out the three secret designers and their runway debut at Bryant Park. Admittedly, putting No Names on a catwalk where, oh … Oscar de la Renta, Armani, Proenza Schouler … bigwigs … have been is a bit cruel. Despite the designers' efforts, there is still some learning to be had. The designers all have apparent talent—Designer 1 incorporates endless new cuts into the collection, Designer 2 has a ruffle knack, and Designer 3 hones in on big-city, versatile, black fashion pieces. Perhaps, if the show's network battle ever ceases, we will get to watch the sewing stars uncovered.
Zac Posen:
Zac Posen: How does he do it? The designer makes sheer dresses look warm and shapeless, completely modest coats desirable. His tailoring is impeccable, and each piece of his runway collection seems perfectly structured. Zac Posen's fall 2009 color palette is subtle (not to say it is lacking color). His '30s-style dresses, gray and lavender paisley frocks, short and long ruffled baroque hemlines — it all seems to just belong.
To get in on some of Posen's old-school Hollywood glamour, search for two-piece outfits — same pattern, same fabric. Add a modern edge with funky cufflinks, hair barrettes and bold make-up.
Also, check out the patterned coats in Posen's collection. With coats like those, you may just sweat through dinner, claiming you run cold, just to wear the fun colors and designs a bit more.
Copyright 2018 The Lawrence Journal-World. All rights reserved. This material may not be published, broadcast, rewritten or redistributed. We strive to uphold our values for every story published.