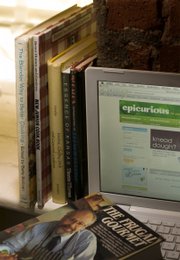 Don't ask Rachel Wydeven Oliverius to trade in her collection of cookbooks for their online counterparts.
She wouldn't do it. Wydeven Oliverius, who co-owns Blue Plate Dinners with Lori Johns, wouldn't dream of giving up her collection of more than 75 cookbooks for online versions.
"One thing about cooking is that it's a tactile thing," she says. "Cookbooks fulfill a visual and tactile need I think we have as chefs or cooks."
Wydeven Oliverius even has a special bookshelf in her house to help keep the books organized and easy to locate. And she'll often tag the books with sticky notes to help her find certain recipes.
"I think cookbooks are great as resources," she says.
Wydeven Oliverius isn't alone. Cookbook lover Geri Riekhof, who owns The Bay Leaf, says she treasures her cookbook collection.
"Something like a cookbook is like a reference book," she says. "You may put it away for a while, but you'll take it out and peruse through it again."
Treasures at your fingertips
Riekhof has hundreds of cookbooks at home — many of them are very old, while others are brand new.
One of Riekhof's favorite recipe books to use around the house is an old Julia Child cookbook. Child was a famous chef, author and television personality who died in August 2004.
"Those are treasures to have at your fingertips," she says.
Riekhof can't imagine not having that book — or one of her most recent purchases, a Mark Bittman cookbook — at her disposal to use whenever she needs.
"It's really good. It's like a Bible," she says. "Those kinds of things are reference books for life."
Hands-on experience
Sure, Riekhof knows she could get online and print out recipes from her favorite authors, but to her it's just not the same as having the actual hard copy of the book right in front of her.
"So you go to the Internet, and you pull up a loose recipe, then what do you do with it?" she says. "Having an author's book, because cooking requires techniques as well, that's something that I think you can only benefit by really having the book and experiencing what the chef or teacher or cook is explaining."
Like Riekhof, Wydeven Oliverius values the hard copy of a cookbook — her favorite part, though, would have to be the photos or stories behind the recipes.
"Cookbooks are often very beautiful," she says. "What I like in a cookbook is food photography and clear, concise instructions.
"Also, in some cookbooks you can get a little bit of humor or stories behind the recipes."
Because cookbooks are a special part of anyone's kitchen, Wydeven Oliverius doesn't see hard copy recipe books disappearing any time soon.
"I see just as many cookbooks being published as in the past," she says.
Copyright 2018 The Lawrence Journal-World. All rights reserved. This material may not be published, broadcast, rewritten or redistributed. We strive to uphold our values for every story published.