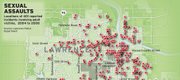 In the past five years, more than 450 adult sexual assaults have been reported in Lawrence. There's a rape in Lawrence every four days. Each case represents an instance where someone's life has been irrevocably changed. LJWorld.com, the Lawrence Journal-World and 6News are taking a deeper look at what those numbers really mean.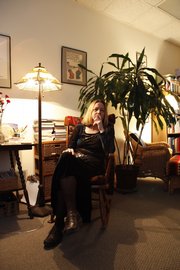 Thirty years ago on a chilly December night, Kathy dozed off on the living room couch in her east Lawrence home. She awoke to a stranger on top of her.
He threatened her with a knife. She feared for her life. He raped her. When he was finished, he stuck the knife down the front of her dress, threw an afghan over her head and bolted for the door.
The attack lasted only a few moments but it affected the rest of her life.
"It is always on my mind," said Kathy, not her real name. "It is an important part of my identity. The biggest part of it was someone was going to kill me and I decided I didn't want to die, so I let the rape happen."
Kathy, who was 25 at the time, was one of six women Charles Hunter raped or attempted to rape in December 1978. In the days that followed her assault, she worked with police to help catch him, testified at his trial and started the lifelong process of healing.
During the assault, Kathy said she had an out-of-body experience where she floated to the ceiling and watched as the attack took place below her. As she looked on, she told herself "don't let it (mess) you up."
The act of a sexual assault — and the process that follows — irrevocably changes lives, Lawrence psychotherapist Tamara Werth said.
"I believe the majority of people would agree ... they are very different after the assault than before it," she said.
Gathering evidence
If Emily Lentz had one piece of advice to pass along to fellow survivors of a sexual assault, it would be to go to the hospital immediately so evidence can be collected.
In fall 1995, Lentz was visiting friends at KU. After a night out, she was split from her group and arrived to an empty house at 3 a.m. Like Kathy, she awoke to a stranger on top of her. She tried to fight and was certain she was about to die.
After the attack, the rapist said he may or may not leave.
Unsure of what to do, she waited before pulling off the blindfold and running to a friend's house, where she called police and then went to the hospital.
"That's what really saved me in this whole case," she said.
The DNA samples collected at the hospital as part of a sexual assault kit helped put the assailant, Cory Elkins, in prison more than a decade later.
Lawrence Memorial Hospital has nurses on call around the clock to gather evidence for sexual assault kits. A police report doesn't have to be filed for a kit to be collected. And the Kansas Bureau of Investigation will keep the evidence even if a report isn't made. Survivors are given a number for the kits in case they ever want to press charges.
Gail Ciesielski is one of several sexual assault nurse examiners at LMH trained to gather evidence and may even be called to give testimony in court. She advises survivors to come in as soon as possible because evidence can be gone within 72 hours.
Exams can take 30 minutes to several hours, depending on the amount of evidence gathered and the pace at which the patient wants to move. The kit provides pouches for samples of blood, hair, fingernail scrapings, semen and fiber. Often the clothing that the survivor was wearing and even the clothes worn to the hospital are taken as evidence.
"You need to come in so your story can be corroborated with your testimony," fellow sexual assault nurse examiner Jessie Fazel said. "The physical evidence can seal the deal versus the 'he said, she said.'"
Navigating the system
When it comes to seeing their offenders punished for the crime, Lentz and Kathy are among the fortunate few. Both saw their assailants sentenced to prison.
But the vast majority of sexual assaults don't end that way. In Douglas County, only 10 percent of reported cases result in an arrest, according to KBI data.
Along with evidence from the rape kit, to help solve the case the police department will canvass the area and interview witnesses and suspects, Lawrence police Sgt. Bill Cory said.
"We take all these crimes, stranger or nonstranger, very serious. We do a complete and thorough investigation; we understand the sensitive nature of these cases and the fragility of the victims in these cases," he said.
Both Lentz and Kathy worked closely with police. Kathy was hypnotized so she could better describe her attacker.
Lentz — after seeing an "Oprah" show about old cases that were solved with advancements in DNA technology — called the KBI nine years after her attack. The agency referred her to Lawrence police Sgt. Dan Ward.
"He put up with my persistence and me being pretty obsessive about it, pushing and calling and asking, 'Have you heard anything,'" Lentz said.
Eventually they did.
The DNA from Lentz's attack matched a man who had been arrested in California. Last May, the evidence from Lentz and another victim was enough to put Elkins in prison for 48 years.
The trial
Throughout the justice process, victims are asked to tell and retell their stories. Among the most traumatic moments can be in front of a judge, jury and the accused.
Cindy Riling helps usher survivors through the court process as a victim's advocate in the Douglas County District Attorney's Office.
"They can be really brutalized on the stand, and we make sure they are not blind-sided by that," Riling said.
Kathy described the court process as painful. While on the stand, she stared into her father's eyes for support.
"I didn't get to speak freely. You only answer what they decide to ask you," she said.
For Lentz, who spoke at Elkins' sentencing, the experience was empowering.
"Rape is a crime of control, more than a sex thing. You feel like your power, your ability to make choices is taken away," Lentz said. "I got most of that back. I'm in control now. I won."
Gathering strength
With the sexual assault, Lentz and Kathy said their sense of safety was shattered. To this day, Lentz double-checks to make sure her doors are locked.
"I feel safe now, but I'll always be looking over my shoulder," she said. "That is part of who I am. It will always be. I can't erase it."
In the days following the attack, Lentz feared she was being followed and would stay awake at night, frightened by the noises she heard. For years, she obsessively scrutinized people's hands, one of her attacker's features she could distinctly remember.
Kathy described having an uncontrollable anger shortly after the incident. Once she beat a phone to pieces after an argument with a friend. Before the trial, she had fantasies about pulling a gun out while testifying on the stand and confronting her attacker.
As in other instances of life or death, sexual assault victims can suffer post-traumatic stress disorder. Years, even decades, later, certain smells, sights and sounds can trigger memories of the attack.
Along with PTSD comes paranoia, hyper-vigilance and distrust, said Werth, the psychotherapist. The overwhelming emotion after the attack is one of shame and with it can come hatred and rage.
For women, those emotions are often self-directed and they can continue the process of self-degradation emotionally, physically or sexually. It's an act that can lead to drug abuse or a series of failed relationships.
"It has many tentacles," Werth said.
Over time, Lentz and Kathy said the ordeal made them stronger. Lentz lives out of state, has a family and is an elementary school teacher. Kathy remains in Lawrence and works as a grant writer for a nonprofit.
While she questions why it happened to her, Kathy feels lucky that she wasn't killed, that the attack didn't take very long and that she had strong friends and family to help her through the aftermath.
In the end, Werth said, survivors can feel a sense of renewal.
"To go through the healing is to go through a hell realm," she said. "And they find all sorts of strength and power that lies within them that they didn't have access to before the assault."
Copyright 2018 The Lawrence Journal-World. All rights reserved. This material may not be published, broadcast, rewritten or redistributed. We strive to uphold our values for every story published.