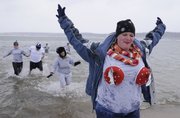 Bloomington Beach — Just another Saturday on the beach at Clinton Lake.
Dozens of people prepared to take a quick dip in the water just off Bloomington Beach.
A typical Saturday afternoon swim with the temperature steady at 20 degrees, the wind blowing snow throughout the area.
You know, firefighters dressed in coconut bras and grass skirts — an average event for late February in Douglas County.
Wait, wait — 20 degrees?
Yes, there was good reason to question the sanity of the 55 people who took a quick dip in the chilling water at noon Saturday.
But for them, supporting the Special Olympics Kansas and their athletes, it was well worth freezing for a short time.
"We were all having our doubts this morning because the wind was so cold," said Joe Hoelscher, a division chief with Lawrence Douglas County Fire and Medical.
Hoelscher was one of several Lawrence firefighters along with law enforcement officers from Douglas and Franklin counties who participated in the first Polar Plunge in the Lawrence area to benefit the Special Olympics.
"Actually, jumping in was not that bad. What was really bad was getting out of the water and then coming up on the beach," he said.
Many participants sprinted the 100 or so yards to their vehicles as they grabbed towels, blankets and anything dry on the way.
Luke Schulte, director of special events for Special Olympics Kansas, said the first-time event in the area was a success — despite Saturday's tough conditions for the plunge — because it raised about $7,000.
Typically, first-time events raise about $2,000, he said, and the plunges have taken place statewide for 11 years.
The funding will help put on Special Olympics events in the Lawrence area.
"Our athletes, they're very integrated into their communities," Schulte said. "It's just a great event. They're great people, so people really come out to support them."
Mark Walker, of Olathe, completed his eighth plunge with his wife, Ellie Walker, on Saturday.
"This was brutal," she said of the windy and snowy conditions.
But anything to help the Special Olympics makes it worth it, participants said.
"(The event) will grow and grow," Hoelscher said, still dripping wet on the beach. "I just need to warm."
Copyright 2018 The Lawrence Journal-World. All rights reserved. This material may not be published, broadcast, rewritten or redistributed. We strive to uphold our values for every story published.