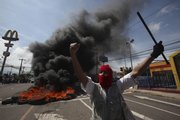 Tegucigalpa, Honduras — Soldiers ousted the democratically elected president of Honduras on Sunday and Congress named a successor, but the leftist ally of Venezuelan President Hugo Chavez denounced what he called an illegal coup and vowed to stay in power.
The first military takeover of a Central American government in 16 years drew widespread condemnation from governments in Latin America and the world — including the U.S. — and Chavez vowed to overthrow the country's apparent new leader.
President Manuel Zelaya was awakened Sunday by gunfire and detained while still in his pajamas, hours before a constitutional referendum many saw as an attempt by him to stay in power beyond the one-term limit. An air force plane flew him into forced exile in Costa Rica as armored military vehicles with machine guns rolled through the streets of the Honduran capital and soldiers seized the national palace.
"I want to return to my country," Zelaya said in Costa Rica. "I am president of Honduras."
Congress voted to accept what it said was Zelaya's letter of resignation, with even Zelaya's former allies turning against him. Congressional leader Roberto Micheletti was sworn in to serve until Jan. 27, when Zelaya's term ends.
Micheletti belongs to Zelaya's Liberal Party, but opposed the president in the referendum.
Zelaya denied resigning and insisted he would serve out his term, even as the Supreme Court backed the military takeover and said it was a defense of democracy.
He left late Sunday on a plane provided by Chavez, bound for Nicaragua where he was to attend a scheduled meeting of Central American presidents today.
Zelaya called on Honduran soldiers to back him, urged citizens to take to the streets in peaceful protests, but only a few hundred turned out at the main protests in the capital.
Micheletti was sworn in at a ceremony inside the Congress building with cheers and chants from fellow legislators of "Honduras! Honduras!"
Outside of Congress, a group of about 150 people opposed to Zelaya's ouster stood well back from police lines and shook their fists, chanting "Out with the bourgeoisie!" and "Traitors!"
Within hours, Micheletti declared a nationwide, 9 p.m. to 6 a.m. curfew for two days starting Sunday night. He told a news conference he had appointed a new foreign minister: lawyer and former Ambassador to the U.N. Enrique Ortez Colindres.
Micheletti insisted that he did not arrive at his new post "under the aegis of a coup d'etat."
"I have reached the presidency as the result of an absolutely legal transition process," he said.
He also defended the army, saying "the armed forces have complied with the constitution and the laws."
But he warned against outside interference after Chavez remarked that if Micheletti was appointed president, "We will overthrow him."
Some of Zelaya's Cabinet members had been detained by soldiers or police following his ouster, according to former government official Armando Sarmiento. And the rights group Freedom of Expression said leftist legislator Cesar Ham died in a shootout with soldiers trying to detain him.
A Security Department spokesman said he had no information on Ham.
Micheletti acknowledged that he had not spoken to any Latin American heads of state, but said, "I'm sure that 80 to 90 percent of the Honduran population is happy with what happened today."
He also announced that Zelaya would be welcome to return to Honduras as a private citizen on one condition: "Without the support of Mr. Hugo Chavez, we would be happy to take him back with open arms," he said.
Zelaya's overthrow came hours before polls were to open on a constitutional referendum that he was pushing ahead even after the Supreme Court and the attorney general said it was illegal. The constitution bars changes to some of its clauses, such as the ban on a president serving more than one term, they said.
Copyright 2018 The Associated Press. All rights reserved. This material may not be published, broadcast, rewritten or redistributed. We strive to uphold our values for every story published.