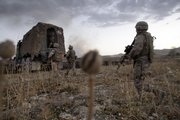 Trieste, Italy — The U.S. is shifting its strategy against Afghanistan's drug trade, phasing out funding for opium eradication while boosting efforts to fight trafficking and promote alternate crops, the U.S. envoy for Afghanistan said Saturday.
The aim of the new policy: to deprive the Taliban of the tens of millions of dollars in drug revenues that are fueling its insurgency.
The U.S. envoy for Afghanistan and Pakistan, Richard Holbrooke, told the Associated Press that poppy eradication — for years a cornerstone of U.S. and U.N. drug trafficking efforts in the country — was not working and was only driving Afghan farmers into the hands of the Taliban.
"Eradication is a waste of money," Holbrooke said on the sidelines of a Group of Eight foreign ministers' meeting on Afghanistan, during which he briefed regional representatives on the new policy.
"It might destroy some acreage, but it didn't reduce the amount of money the Taliban got by one dollar. It just helped the Taliban. So we're going to phase out eradication," he said. The Afghan foreign minister also attended the G-8 meeting.
Eradication efforts were seen as inefficient because too little was being destroyed at too high a cost, U.N. drug chief Antonio Maria Costa told the AP.
The old policy was also deeply unpopular among powerless small-scale farmers, who often were targeted in the eradication efforts.
Afghanistan is the world's leading source of opium, cultivating 93 percent of the world's heroin-producing crop. While opium cultivation dropped 19 percent last year, it remains concentrated in Afghanistan's southern provinces where the Taliban is strongest and last year earned insurgents an estimated $50 million to $70 million, according to the U.N. drug office.
While there was no immediate comment from Kabul on Saturday, the U.S. policy shift was likely to be welcomed by Afghanistan's government. Officials eradicating poppies have often been attacked by militants. Afghan citizens, many of whom rely on farming for sustenance and income, would also invite new agricultural programs.
The new policy calls for assisting farmers who abandon poppy cultivation. Holbrooke said the international community wasn't trying to target Afghan farmers, just the Taliban militants who buy their crops.
"The farmers are not our enemy, they're just growing a crop to make a living," he said. "It's the drug system. So the U.S. policy was driving people into the hands of the Taliban."
While Holbrooke did not provide the AP with a dollar figure for the new U.S. commitment, he told the G-8 ministers that Washington was increasing its funding for agricultural assistance from tens of millions of dollars a year to hundreds of millions of dollars, said Foreign Minister Franco Frattini of Italy, the current G-8 president.
Copyright 2018 The Associated Press. All rights reserved. This material may not be published, broadcast, rewritten or redistributed. We strive to uphold our values for every story published.