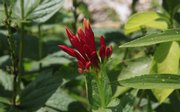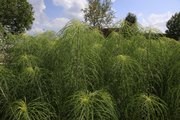 Seeing some interesting and unusual plants on the recent garden tours has led me to wandering around our local garden centers again. Admittedly, perennials have a better chance of survival when planted in the spring or fall, but summer bloomers are easy to overlook in other seasons, so I am searching now for flowers that will make my garden glorious next summer.
One of my new favorites is the yellow horned poppy (Glaucium flavum) growing in the low-water use garden right in front of the Douglas County Extension Office. Frilly gray-green foliage frames yellow-orange blooms and spiky seed capsules that give the perennial (sometimes listed as biennial) flower its name. Yellow horned poppy prefers full sun, tolerates high pH soils and is easily propagated by seed.
Shade gardeners will delight in Indian pinks. Native to our neighbors to the east and a good portion of the southeastern part of the United States, Indian pinks prefer moist, wooded areas and stream banks but can tolerate a range of light to heavy shade. The flower is a brilliant red tube with a yellow interior held above deep-green leaves. There are at least four different flowers that go by the name Indian pinks, so look for this one with its scientific name, Spigelia marilandica.
Minus creeping thyme (Thymus serpyllum "Minus") is a variety that has been around for a few years but has yet to be discovered by many gardeners. The leaves of this variety of thyme are so small that they give the plant a mossy appearance. Minus thyme looks great in rock gardens and between flagstones. One gardener on the tour used creeping thyme to create a mossy mound that looks like something out of a formal Japanese-style garden. Thyme is much better suited to Kansas summers than moss, making this a great right-plant, right-place substitute.
One Kansas wildflower that generates lots of attention at the Monarch Watch garden is the willow-leaf sunflower, or Helianthus salicifolius. This perennial reaches heights of 5 to 8 feet by mid-summer, but the narrow, fine, textured leaves make a nice backdrop to shorter plants. Yellow flowers top lengthy stems late in the summer through frost for a nice fall accent.
Perennial banana, Musa basjoo, is far from native but adds a great tropical feel to the garden. This plant is grown for its texture and display created by large leaves and interesting brown stems. Perennial banana rarely produces inedible "fiber" bananas in our climate, but the plant does survive Kansas winters. One gardener who grows perennial banana in Lawrence recommends cutting the plant back in late fall and applying a layer of mulch over the roots for extra protection.
Last but not least are the purple and coral porterweeds, Stachystarpheta jamaicensis "Purple" and Stachytarpheta mutabilis, respectively. Both plants are well-liked by both butterflies and hummingbirds, and their names describe flower color. Porterweeds are annuals in Kansas, so they will need to be replanted each year, but their large size and vivid flowers make them worth the trouble. Purple porterweed is about 4 feet tall at maturity, while the coral variety can reach 6 feet. Flowers appear all summer long on a long stem like a gladiolus or hollyhock.
— Jennifer Smith is the Douglas County Extension Agent–Horticulture for K-State Research and Extension. Contact her or an Extension Master Gardener with your gardening questions at 843-7058 or dgemg@sunflower.com.
Copyright 2018 The Lawrence Journal-World. All rights reserved. This material may not be published, broadcast, rewritten or redistributed. We strive to uphold our values for every story published.