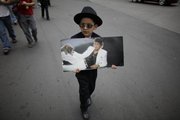 Los Angeles — Michael Jackson's family wants a private autopsy of the pop icon because of unanswered questions about how he died and the doctor who was with him, the Rev. Jesse Jackson said Saturday.
"It's abnormal," he told The Associated Press from Chicago a day after visiting the Jackson family. "We don't know what happened. Was he injected and with what? All reasonable doubt should be addressed."
People close to Jackson have said since his death that they were concerned about the superstar's use of painkillers. Los Angeles County medical examiners completed an autopsy Friday and said Jackson had taken prescription medication.
Medical officials also said there was no indication of trauma or foul play. An official cause of death could take weeks.
The coroner's office released the body to Jackson's family Friday night. There was no immediate word on whether the second autopsy was being performed right away. Jesse Jackson described the family as grief-stricken.
"They're hurt because they lost a son. But the wound is now being kept open by the mystery and unanswered questions of the cause of death," he said.
Two days after Jackson died at a Los Angeles hospital, sisters Janet and La Toya arrived at the mansion Jackson had been renting. They left without addressing reporters.
Moving vans also showed up at the Jackson home, leaving about an hour later. There was no indication what they might have taken away.
The Jackson family issued a statement Saturday expressing its grief over the death and thanking his supporters.
"In one of the darkest moments of our lives we find it hard to find the words appropriate to this sudden tragedy we all had to encounter," said the statement made through People magazine. "We miss Michael endlessly."
The Jackson family did not respond to a request for comment from the AP.
There was also no word from the family on funeral plans. Many of Jackson's relatives have gathered at the family's Encino compound, caring there for Jackson's three children.
A person close to the family told the AP they feel upset and angry about a lack of information about those who were around the pop superstar in his final days. The person requested anonymity because of the delicate nature of the situation.
Jackson had been rehearsing for 50 London concerts aimed at restoring his crown as the King of Pop. He died Thursday at age 50 after what his family said appeared to be cardiac arrest.
Copyright 2018 The Associated Press. All rights reserved. This material may not be published, broadcast, rewritten or redistributed. We strive to uphold our values for every story published.