'Hacktivists' take up fight
A sharp clampdown by Iranian authorities may have quelled street protests, but the fight goes on in cyberspace.
Groups of "hacktivists" — Web hackers demanding Internet freedom — say they are targeting Web pages of Iran's leadership in response to the regime's muzzling of blogs, news outlets and other sites.
It's unclear how much the wired warriors have disrupted official Iranian sites. Attempts by The Associated Press to access sites for state news organizations, including the Islamic Republic News Agency and Fars, were unsuccessful — with a message saying the links were "broken."
Other Iranian Web sites, including the official site for Supreme Leader Ayatollah Ali Khamenei, were able to be viewed.
It's the latest in a widening front of attempts at cyber attacks by activists and others. Earlier this week, Defense Secretary Robert Gates ordered the creation of a new military cyber command that will coordinate the Pentagon's efforts to defend its networks and conduct cyberwarfare.
— The Associated Press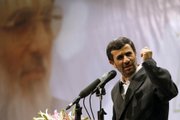 Editor's Note: Iranian authorities have barred journalists for international news organizations from reporting on the streets and ordered them to stay in their offices. This report is based on the accounts of witnesses reached in Iran and official statements carried on Iranian media.
President Mahmoud Ahmadinejad vowed Saturday to make the U.S. regret its criticism of Iran's postelection crackdown and said the "mask has been removed" from the Obama administration's efforts to improve relations.
Ahmadinejad — with his internal opponents virtually silenced — all but dared Obama to keep calling for an end to repression of demonstrators who claim the hardline leader stole re-election through massive fraud.
"You should know that if you continue the response of the Iranian nation will be strong," Ahmadinejad said in a speech to members of Iran's judiciary, which is directly controlled by the ruling clerics. "The response of the Iranian nation will be crushing. The response will cause remorse."
Ahmadinejad has no authority to direct major policy decisions on his own — a power that rests with the non-elected theocracy. But his comments often reflect the thinking of the ruling establishment.
The cleric-led regime now appears to have quashed a protest movement that brought hundreds of thousands to the streets of Tehran and other cities in the greatest challenge to its authority in 30 years. There have been no significant demonstrations in days, and the most significant signs of dissent are the cries of "God is great!" echoing from the rooftops, a technique dating to the days of protest against the U.S.-backed shah before the 1979 Islamic Revolution.
Days of relatively restrained talk from both Washington and Tehran appear to be returning to a familiar pattern of condemnation and recrimination despite Obama's stated desire to move away from mutual hostility. Iran and the U.S. still appear interested in negotiations over Iran's nuclear program, but the rising rhetorical temperature can be expected to slow progress toward a deal, experts said.
"The political feasibility of pursuing it, and the likelihood of success has changed," said Trita Parsi, president of the National Iranian American Council. "I have a hard time seeing any real engagement taking place for at least four to six months."
Obama acknowledged Friday that Iran's violent suppression of unrest would hinder progress, saying "There is no doubt that any direct dialogue or diplomacy with Iran is going to be affected by the events of the last several weeks."
Obama struck a conciliatory tone toward Iran after taking office, sending a video greeting for Persian New Year that used the government's formal name — the Islamic Republic of Iran — in a signal that the goal of regime change had been set aside. He even avoided strong language as Iran began suppressing street protests, saying he wanted to avoid becoming a foil for Iranian hard-liners who blame the United States and other Western powers for instigating internal dissent.
But Obama decried Iran's crackdown more vigorously as amateur videos of beating and shootings began flooding the Internet. He said Friday in his strongest condemnation yet that violence perpetrated against protesters was "outrageous," and dismissed a demand from Ahmadinejad to repent for earlier criticism.
"I would suggest that Mr. Ahmadinejad think carefully about the obligations he owes to his own people," Obama added.
Copyright 2018 The Associated Press. All rights reserved. This material may not be published, broadcast, rewritten or redistributed. We strive to uphold our values for every story published.