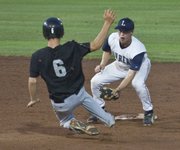 Drew Noble's noble pitching effort went for naught.
Willard, Mo., took advantage of four errors and spilled the Raiders, 6-2, in the Al Ice Woodbat Classic on Thursday night at Hoglund Ballpark.
"Drew Noble did a good job," Raiders coach Wilson Kilmer said. "He obviously deserved better than he got out of us."
Noble, a right-hander who'll be a senior at Eudora High, had the visitors pounding the ball into the ground all night with what he calls his "dying fastball." Raiders' first baseman Tanner Kilmer had 11 putouts.
Unfortunately, four of the Noble-enticed ground balls were booted by Raiders' infielders. Three of those miscues occurred in the first inning when Willard scored four runs.
"You can't give any team six outs," coach Kilmer said. "It's really frustrating. Drew kept his composure, but in the field we didn't."
Only one of those four first-inning runs was earned. Willard added an earned run in the third on three singles, then added a final unearned run in the seventh after the Raiders' fourth infield gaffe.
Thus Noble surrendered only two earned runs in his route-going performance, but suffered his third loss in five decisions.
"I did get a lot of ground balls," Noble said, "but I think my best game is way ahead of me."
Meanwhile, Willard was guilty of just one error and right-hander John Latham cruised on a five-hitter, fanning 11 and walking only two.
The Raiders scored in the second when Brian Kindle doubled, stole third and scored on a doubleplay grounder. In the third, Matthew Abel walked, stole second and scored on Travis Sanders' two-out seeing-eye ground single to left.
Only once again would the Raiders threaten. In the fifth, they loaded the bases with two outs on Abel's double, another Sanders' single and a walk to Nick Hassig.
Minutes later, however, Latham fanned Kindle to put out the fire.
The Raiders (5-10) will try to bounce back today when they meet the Kansas City Bullets at 7:30 p.m. at Hoglund. Right-hander Taylor Gentry will be the Raiders' starting pitcher.
Copyright 2018 The Lawrence Journal-World. All rights reserved. This material may not be published, broadcast, rewritten or redistributed. We strive to uphold our values for every story published.