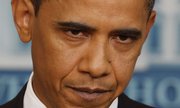 Washington — President Barack Obama on Tuesday squared off with the insurance lobby over industry charges that a government health plan he backs would dismantle the employer coverage Americans have relied on for a half-century and overtake the system.
The harsh exchange came after months of polite White House photo-ops at which the administration and insurers emphasized their search for common ground. It happened just when Congress seems to be floundering in its attempt to move sweeping legislation embodying Obama's top domestic priority, although leading lawmakers say they remain confident.
"If private insurers say that the marketplace provides the best quality health care ... then why is it that the government, which they say can't run anything, suddenly is going to drive them out of business?" Obama said in response to a question at a White House news conference.
"That's not logical," he scoffed, responding to an industry warning that government competition would destabilize the employer system that now covers more than 160 million people.
Obama made his comments as officials disclosed that key Senate Democrats had whittled more than
$400 billion off the cost of a health care plan that carried a $1.6 trillion price tag last week. The new cost is below $1.2 trillion, but still above the informal target lawmakers have set. The officials spoke on condition of anonymity, saying they were not authorized to disclose details of the closed-door talks.
Sen. Kent Conrad, D-N.D., told reporters the reductions were achieved by lowering subsidies designed to make insurance affordable for those who lack it, as well as other changes.
Sen. Max Baucus, D-Mont., chairman of the Senate Finance Committee, told reporters he was very close to his $1 trillion target, and predicted, "we'll make it." Baucus has been struggling to engineer a bipartisan compromise on Obama's health care priorities.
Late Tuesday, Baucus emerged from a meeting with White House Chief of Staff Rahm Emanuel and said the administration still wanted a deal that could get Republican support. Emanuel met in the Capitol with Senate Majority Leader Harry Reid, D-Nev., and other senators working on health care amid talk that Democrats may be getting ready to go it alone on health care.
"Rahm said he still wants a bipartisan plan," Baucus told reporters after the meeting.
Obama's comments earlier in the day went to the heart of one of the most controversial issues in health care, the demand by many Democrats for a government-sponsored health insurance that could compete with private plans.
Individuals and small businesses would get to pick either the public plan or a private one through a new kind of insurance purchasing pool called an exchange. Eventually, the exchanges could be opened to large companies as well.
"The public plan, I think, is an important tool to discipline insurance companies," Obama said.
That's not what the industry thinks.
In a letter to senators released Tuesday, the two largest industry groups warned in stark terms that a government plan would take over the system.
America's Health Insurance Plans and the Blue Cross Blue Shield Association also said they don't believe it's possible to design a government plan that can compete fairly with private companies in a revamped health care market. That particular statement seemed to be aimed at lawmakers of both parties who continue to seek a compromise on the contentious issue.
"We do not believe that it is possible to create a government plan that could operate on a level playing field," said the insurers' letter, signed by AHIP head Karen Ignagni and Scott Serota, the Blue Cross CEO. "Regardless of how it is initially structured, a government plan would use its built-in advantages to take over the health insurance market."
The industry suggested a government plan would run counter to Obama's promise that Americans can keep the coverage they have.
"A government-run plan no matter how it is initially structured would dismantle employer-based coverage, significantly increase costs for those who remain in private coverage, and add additional liabilities to the federal budget," said the letter.
Nonetheless, recent media polls have found strong public support for the idea.
Copyright 2018 The Associated Press. All rights reserved. This material may not be published, broadcast, rewritten or redistributed. We strive to uphold our values for every story published.