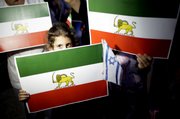 Cairo — Overwhelmed by police and left with limited alternatives, Iranian demonstrators resorted Tuesday to more subtle ways of challenging the outcome of the presidential election: holding up posters, shouting from rooftops and turning on car headlights.
But the restrained expressions of discontent appeared to be scattered as Iran's ruling clerics dealt the opposition new setbacks, making clear they have no intention of holding a new vote and setting up a special court to deal with hundreds of protesters arrested in more than a week of unrest.
Iran also expelled two diplomats from Britain — a nation it bitterly accuses of meddling and spying — and Britain in turn sent two Iranian envoys home.
The latest moves, and a fresh deployment of riot police and militia to break up any street gatherings, signaled the regime's determination to squelch dissent and mute the voices of those whose protests have been the largest since the 1979 Islamic Revolution.
"People are calmly protesting, more symbolically than with their voices," a Tehran resident said in a telephone interview, speaking on condition of anonymity for fear of government retribution.
No rallies were reported Tuesday. Many in Tehran seemed hesitant to confront the feared Revolutionary Guard and members of the Basij militia, suggesting the harsh response wrought by hard-line President Mahmoud Ahmadinejad and supreme leader Ayatollah Ali Khamenei to large and boisterous demonstrations may have weakened the opposition's resolve.
In Tehran's sprawling Grand Bazaar market, shopkeepers said customers frightened away by the violent crackdown were venturing back outdoors.
"These past few days the situation was not good," said a vendor who gave his name only as Ali because he feared retaliation. "People were scared because there was not any security and people didn't come out. But thank God, in the past two or three days the situation has gotten much better and business is good."
Severe restrictions on reporters have made it almost impossible to independently verify reports on demonstrations, clashes and casualties. Iran has ordered journalists for international news agencies to stay in their offices, barring them from reporting on the streets.
President Barack Obama said the world was "appalled and outraged" at Tehran's use of violence, and other nations expressed grave concerns as the standoff fueled an increasingly acrimonious international dispute on how to engage Iran — a country the U.S. and its allies have accused of covertly trying to build a nuclear weapon.
"I have made it clear that the United States respects the sovereignty of the Islamic Republic of Iran and is not interfering in Iran's affairs," Obama said. "But we must also bear witness to the courage and dignity of the Iranian people, and to a remarkable opening within Iranian society. And we deplore violence against innocent civilians anywhere that it takes place."
Iran's Foreign Ministry said it expelled the two Britons for "unconventional behavior," state television reported without elaborating. Tensions between Iran and Britain, which has urged the Islamic regime to respect human rights, have soared in recent days.
Copyright 2018 The Associated Press. All rights reserved. This material may not be published, broadcast, rewritten or redistributed. We strive to uphold our values for every story published.