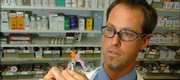 An outbreak of H1N1 Swine Flu was reported in Mexico in April 2009. By the end of May, it had spread across the U.S., with all 50 states reporting cases.
A third case of swine flu has been confirmed in Douglas County.
This case involves a child, while the previous ones involved adults. Lawrence-Douglas County Health Department spokeswoman Lisa Horn said the child was not hospitalized. She said that the department couldn't release more information about the case, but that the department was doing a thorough investigation.
The case was confirmed Friday, but information about the case was not released until late Tuesday afternoon by the Kansas Department of Health and Environment. KDHE announced Tuesday that Shawnee County had its first case of swine flu, bringing the state total to 113 cases.
Horn said if people have swine flu symptoms, similar to seasonal flu, they should contact their doctor or the health department at 843-3060.
Copyright 2018 The Lawrence Journal-World. All rights reserved. This material may not be published, broadcast, rewritten or redistributed. We strive to uphold our values for every story published.