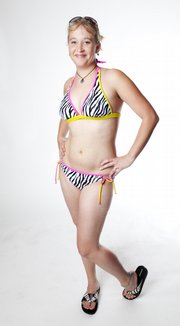 Slipping on last year's swimsuit probably isn't every woman's favorite thing to do when the pool opens for another summer.
Pale skin and pasty legs are revealed, and perhaps a faint tan line has been left from when the sun actually shined in our favor.
The only thing left to do is shed some clothes and dive into the new summer in a new swimsuit.
First things first. Before making any rash decisions, take a step in front of a mirror and become acquainted with your body type. Then, the hunt for a bikini or one-piece can begin.
MaKayla Zoerb, store manager for The Buckle, 805 Mass., says bikinis remain popular this time of the year.
"We sell a lot of swimsuits," Zoerb says. "A lot of girls come in and want separate pieces so they can mix and match."
Mixing and matching is the key to finding the right bikini for a certain body type.
According to Lisa Fisher, Lawrence resident and owner of www.vintagedress.etsy.com, a certain strategy comes with buying bikinis.
"You want to focus on showcasing your best feature. So if you're bottom-heavy, you want a dark suit bottom and a multicolored or patterned top to draw the eye upward," Fisher says. "If you're top-heavy, you reverse it: patterns down below, solid, dark colors up top."
The Buckle provides a variety of multicolored tops and bottoms ranging from $36 to $115 per piece.
If the idea of bikini seems a bit too intimidating, settle for a one-piece swimsuit. To many women's advantage, one-pieces are becoming more and more popular this summer, and there is no problem with getting more protection from the sun, hiding stretch marks and keeping things in place.
Weaver's department store, 901 Mass., has a wide selection for women of all ages. The most popular variety this year: the longitude suit.
"It's a really great suit because it's like having a girdle on," says Janet Mihalchik, a Weaver's associate. "It's very slimming and pulls you all in."
If swimming laps and aerobics are the activities you have planned for this summer, Francis Sporting Goods, 731 Mass., offers three levels of one-piece Speedo suits. Based on the level of suit — Grab Bag, Endurance or Conservative Cut — the prices will range from $39 to $74. These suits are meant for serious swimmers ready to tackle the laps.
Whether it's bathing in the sun, swimming laps, or lounging on the beach, keep in mind that no matter what swimsuit you choose, you should focus on accentuating the most appealing parts of your body. That way, you can fully enjoy summer in the sun and do it while looking fantastic.
Shop smart
There's no need to get your blood pressure up when it's time to buy a swimsuit. Just follow these simple tips for fun-in-the-sun style: Stop comparing yourself to other women. Focus on what looks good on you and makes you feel confident. If nothing does that, then move on. The problem isn't you; it's the selection of merchandise. You'll feel better about the whole shopping process if you go after exercising and drinking plenty of water (no sugary drinks or salty foods). Do not shop for a swimsuit at the end of a long workday or after a big meal.
Wear it well: • Small bust: Light-colored halter top with a print, matched with a dark solid bottom. • Big bust: Athletic-looking two-piece or a medium-neck tank. Consider foam bra inserts for extra support. • Long torso: High-waisted bottom in a two-piece suit and a larger pattern will minimize the long look. High-cut legs make the torso look shorter. Also, break up the visual with a cummerbund-effect or a belted style. • No curves: Create the illusion of a waistline with a "monokini," which has side cut-outs. Also try a belted suit. • Love handles: String bikini with side-ties. Make sure it's not tied so tight that it squeezes. • Big hips: A v-cut bottom will help slim the hips. • Stomach bulge: Look for suits with tummy-control panels. Suits with chevron stripes, gathers, pleats or shirring conceal extra weight.
Source: McClatchy Newspapers
Copyright 2018 The Lawrence Journal-World. All rights reserved. This material may not be published, broadcast, rewritten or redistributed. We strive to uphold our values for every story published.