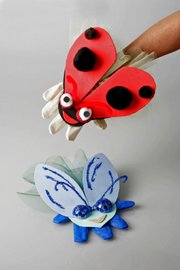 With summer bugs emerging, it's time to create some insects of your own. We promise these won't sting or bite you.
Here are instructions for making your own garden bug puppets using directions found at www.bhg.com. Type "puppets from the garden" in the search box.
Supplies list for both insects: 4 1 1/2 inch plastic foam balls; red and blue glitter glue; craft foam in red, black, blue, green and yellow; grey, blue and green nylon netting; red and blue chenille stem; pompoms — 2 large black, 2 medium black, 2 medium white; 1 pair small, cloth gardening gloves; low-temp hot glue gun; blue fabric paint and sponge brush; blue sequins.
For ladybug: Cut a foam ball in half. Cover the rounded sides with red glitter glue for eyes; set aside. Cut the body, wings and mouth out of craft foam. Cut several layers of wings out of gray netting.
For the antennae, poke two small holes in the body near where the eyes will be positioned with a pencil. Fold red chenille stem in half. From the bottom, push the stem ends up through the holes. Shape into antennae.
Very carefully, or with an adult's help, glue the flat side of foam body to the back of gray glove so that the glove's fingers/legs extend beyond the face.
Glue the front of the foam wings in place. Carefully glue the ends of the netting wings under the foam wings, bunching the layers together so that they lift up the foam wings.
Glue black pompoms to the ladybug wings. Glue red eyes in place. Cut circles from black crafts foam for pupils. Top red eyes with white pompoms and black pupils. Glue mouth in place.
For fly: Paint the fingers of the glove with blue fabric paint and set aside to dry.
Cut a foam ball in half. Cover the rounded sides with blue glitter glue. Push sequins into the wet glue for eyes. Set aside to dry.
Using appropriate colors, follow ladybug directions steps starting with step two. Finish the fly by gluing the sequin-covered foam eyes in place, gluing the mouth in place.
Copyright 2018 The Lawrence Journal-World. All rights reserved. This material may not be published, broadcast, rewritten or redistributed. We strive to uphold our values for every story published.