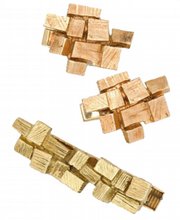 A smart woman created Father's Day in 1910. Sonora Smart Dodd wanted to honor her father, William Smart, in the same way mothers were honored on Mother's Day. The idea caught on, and in 1972 Congress made the third Sunday of June the official holiday. It can be difficult to find a gift for Dad, but cufflinks are back in style, and collectors can find many vintage examples anywhere from $10 to more than $1,000. But be sure Dad has at least one shirt with cuffs that have holes, not buttons. An expensive pair of cufflinks and a matching tie bar sold last year at a Sollo Rago auction for $1,715. The gold cufflinks and tie bar in an abstract design were made by a now-famous artist, Ed Wiener (1918-1991). He was a self-taught jeweler who worked in Greenwich Village in the late 1940s. His unusual modern pieces were made of sterling silver until the late 1950s, when he started to use gold as well as silver. Any piece by Wiener brings high prices today, and since he sold jewelry to many tourists, it's not unusual to find examples in all parts of the country. The best news is that he always marked pieces with his name, so they can be easily identified. If your father isn't the cufflink type, shop for another collectible — perhaps sports memorabilia or a shaving mug.
Q: Years ago, I acquired three pieces of porch furniture. Two are wooden chairs. The third is a wooden seat attached to a metal glider. A: The manufacturing plate on the rocker says, "Rok-o-Glider, The Goshen Manufacturing Co., Goshen, Indiana." Do you know how old the pieces are and what they're worth? They have been repainted.
The Goshen Manufacturing Co. has been in business since the late 1890s. Today it's a division of Gleason Industries and makes hand and platform trucks. It started out as a manufacturer of ladders, hay tools and lawn swings. The patent for the design of your glider was granted in April 1937, so your set probably dates from the late 1930s. A repainted glider and one chair sold a couple of years ago for $200.
Q: I recently went to a rummage sale, where I paid 25 cents for an old 33-1/3-rpm long-playing record album. It's a recording of an original radio broadcast by W.C. Fields, and the album jacket and one side of the vinyl record picture Fields. What I find interesting, though, is that the jacket front also pictures four vintage ads for Coca-Cola, and there's a Coke logo at the bottom. Plus, one side of the record pictures a woman on the beach drinking Coke alongside the words, "Drink Coca-Cola, Delicious and Refreshing." How old is this album, and why was it made?
A: The album dates from the 1970s, when George Garabedian's Anaheim, Calif., company, Mark 56 Records, persuaded the Coca-Cola Co. to help him produce a few original radio broadcast albums that also advertised Coke. Others in the series included "Superman," "The Lone Ranger," "The Shadow" and "Sgt. Preston of the Yukon." Each album sells today for about $15 to $25. So you made a good buy.
Copyright 2018 The Lawrence Journal-World. All rights reserved. This material may not be published, broadcast, rewritten or redistributed. We strive to uphold our values for every story published.