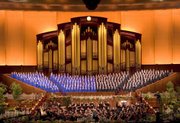 To those who have seen it, it is an awesome sight: Hundreds of people singing in the name of God. And, for the first time since 1958, those voices — the Mormon Tabernacle Choir — will be heard in Kansas City.
The choir is performing in Kansas City on Thursday at the Sprint Center, marking its first visit to the area in more than 50 years. And Mormons in Lawrence are excited to see the performance.
Ric Mitchell, who has seen the choir perform before and plans to go to this performance, describes the experience as unique enough to raise goosebumps.
"Hearing and seeing the choir and orchestra in concert is an experience like no other," says the area coordinator for the Church of Jesus Christ of Latter-day Saints Church Educational System. "You have a choir of 360 voices combined with 110 musicians in the orchestra. All of these people combine their talent to glorify God through song. The incredible power in the auditorium when they perform is inspirational to everyone in attendance."
Tickets are available at Ticketmaster, (800) 745-3000, and the Sprint Center Box Office, (816) 949-7000.
Copyright 2018 The Lawrence Journal-World. All rights reserved. This material may not be published, broadcast, rewritten or redistributed. We strive to uphold our values for every story published.