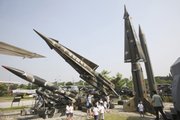 Seoul, South Korea — The United States has deployed anti-missile defenses around Hawaii amid reports that North Korea may fire its most advanced ballistic missile toward the U.S. islands early next month, adding to already high tensions in the region.
A report in a Japanese newspaper said Pyongyang might test-fire its Taepodong-2 toward Hawaii around the U.S. holiday of Independence Day. North Korea test-fired a similar long-range missile on July 4 three years ago, but it failed seconds after liftoff.
U.S. Defense Secretary Robert Gates said the additional defenses around Hawaii consist of a ground-based mobile missile system and a radar system nearby. Together they could shoot an incoming missile in mid air.
"Without telegraphing what we will do, I would just say ... we are in a good position, should it become necessary, to protect Americans and American territory," Gates told reporters in Washington on Thursday.
A new missile launch — though not expected to reach U.S. territory — would be a brazen slap in the face of the international community, which punished North Korea with new U.N. sanctions for conducting a second nuclear test on May 25 in defiance of a U.N. ban.
North Korea spurned the U.N. Security Council resolution with threats of war and pledges to expand its nuclear bomb-making program.
The Security Council resolution calls on all 192 U.N. member states to inspect vessels on the high seas — with the owner country's approval — if they believe the cargo contains banned weapons.
In what would be the first test case for the sanctions, the U.S. military has begun tracking a North Korean-flagged ship, Kang Nam, which left a port in North Korea on Wednesday, two U.S. officials said.
The ship, which may be carrying illicit weapons, was in the Pacific Ocean off the coast of China on Thursday, the officials said on condition of anonymity because they were discussing intelligence.
It was uncertain what the Kang Nam was carrying, but it has been involved in weapons proliferation before, one of the officials said.
The missile now being readied in the North is believed to be a Taepodong-2 with a range of up to 4,000 miles and would be launched from North Korea's Tongchang-ri site on the northwestern coast sometime around July 4, the Yomiuri newspaper said.
It cited an analysis by Japan's Defense Ministry and intelligence gathered by U.S. reconnaissance satellites.
It speculated the missile could fly over Japan and toward Hawaii, but would not be able to hit Hawaii's main islands, which are about 4,500 miles from the Korean peninsula.
A spokesman for the Japanese Defense Ministry declined to comment on the report. South Korea's Defense Ministry and the National Intelligence Service — the country's main spy agency — said they could not confirm it.
Copyright 2017 The Associated Press. All rights reserved. This material may not be published, broadcast, rewritten or redistributed. We strive to uphold our values for every story published.