Photo Gallery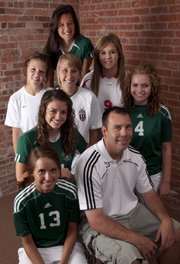 LJWorld All-Area girls soccer first team
Emma Lumpe – senior Lawrence High
Lumpe finished her career as the LHS goalkeeper in style, helping lead the Lions to an 8-8 record and guiding the team within one victory of a trip to state. Lumpe is a four-year starter and captain who leaves LHS with 16 career shutouts. She plans to continue playing soccer next season at Milwaukee Technical.
Olivia Dykes – junior
Lawrence High
Dykes led the Lions in scoring this season (six goals) and added two assists from her spot on defense and in the midfield. In addition to being a constant threat near the net, she was named the MVP of the McPherson Invitational and was a diverse enough player to factor into the Lions' offensive and defensive schemes every game.
Marley Sutter – junior
Lawrence High
Sutter's goal totals don't indicate the type of impact she had on the Lions' offense this season. In addition to netting four goals and two assists, Sutter was always willing to mix it up to keep a possession alive. Her tenacity and pressure in the offensive zone forced several opposing defenders into quick mistakes that often led to goals for the Lions.
Stef Stuever – senior
Lawrence High
The Lions' center midfielder earned first-team all-state honors for Class 6A this season. Stuever was the facilitator for nearly everything the Lions did both offensively and defensively this season. In addition to her three goals and three assists, Stuever made the all-tournament team at the McPherson Invitational. She leaves the program as one of the top goal scorers in school history and will play next season at Washburn University.
Hannah Carlson – junior
Free State
In her first season as the Firebirds' go-to player, Carlson played through injuries and pain most of the way and still found a way to deliver. She netted five goals and two assists and was named second-team All-Sunflower League and first-team all-region. Although she was a weapon — with her mind and her skills — wherever she possessed the ball, Carlson was most dangerous on free kicks.
McKenzie Liebl – junior
Free State
Liebl's numbers don't do her justice, but, through effort and desire alone, she was one of the toughest players in the area throughout the season. Although she has the ability to play forward and midfield, she was most valuable as a defender for the young FSHS team. Her toughness and grit prevented many scoring opportunities, and she was recognized as an honorable mention All-Sunflower League performer.
Lauren Williams – senior
Tonganoxie
Williams used her speed and quickness to create havoc for opposing defenses all season. She finished the season with six goals and had numerous other scoring chances because of her competitive drive and wheels.
Carly Stanley – junior
De Soto High
The 2009 all-area player of the year broke school records in both goals (39) and points scored (99) while leading the Wildcats to a 11-6-1 record. Called by many the best player on the field no matter who De Soto is playing, Stanley scored at least one goal in all but three games the Wildcats played this season. In addition to finishing second in the state in total goals, she added 21 assists.
Danielle Price – senior
De Soto High
If anyone rivaled De Soto standout Carly Stanley in terms of production this season, it was Price. The DHS teammate of this year's all-area player of the year finished with 30 goals and 26 assists for 86 points. Price leaves the De Soto program as the state-record-holder for career assists (54) and single-season assists (26). She was a two-time captain for the Wildcats.
Eliza Allegre – senior
Ottawa High
Allegre led the Cyclones with six goals and one assist this season. She is a two-year All-Northeast Kansas League performer and was a second-team all-region pick in 2008 and 2009. She's a four-year captain and was voted the team's offensive player of the year for three straight seasons.
Honorable Mention: Laura Chartier – Ottawa High; Addy Phelps, Shyanne Gergick – Tonganoxie High; Danielle Dowdy, Jamie Zvirgzdins – De Soto High; Megan Andrews, Kaley Tesdahl, Heather Miller, Kristy Gerard – Lawrence High; Grace Lang, Annie Libeer, Kylee Loneker, Caroline Mayhew – Free State High.
Copyright 2018 The Lawrence Journal-World. All rights reserved. This material may not be published, broadcast, rewritten or redistributed. We strive to uphold our values for every story published.