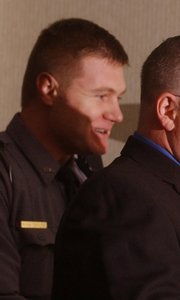 A former Lawrence police officer, once honored as a hero, is being charged with 14 federal counts of felony wire fraud, accused of selling stolen video games on eBay while employed by the police force.
Robert Ryan Sayler, 32, is suspected of devising and executing a scheme in which he purchased video games from Target, removed the video game discs from their original packaging, returned the empty boxes to Target for a complete refund and then sold the discs online, according to an indictment handed up by a Kansas City, Kan., grand jury Wednesday.
The indictment accuses the former police officer of collecting about $526 through the sale of 14 stolen Playstation 3 and Xbox video games on the online auction site eBay, between Aug. 9, 2008, and Sept. 17, 2008. The sale prices ranged from $30 to $46.
Multiple copies of the games Tiger Woods PGA Tour 09, Soul Caliber IV and Battlefield Bad Company were sold as a part of the scheme, the indictment said.
Sayler worked more than eight years for the Lawrence Police Department, from Oct. 9, 2000, until Dec. 23, 2008. He was being paid a salary of $58,333 per year when his employment was terminated, the city said.
Servers located in the states of Washington, California, Texas and Arizona are used to process eBay transactions, the indictment said. The indictment said Sayler mailed the video games to purchasers.
Capt. Tarik Khatib, who oversees the Lawrence Police Department information technology division, said the department had no comment about the indictment.
Sayler was one of five police officers who received the Lawrence Police Medal of Valor, the department's highest award, for his rescue efforts during the deadly Boardwalk Apartment Fire in October 2005.
A court date for Sayler has not been set.
Copyright 2018 The Lawrence Journal-World. All rights reserved. This material may not be published, broadcast, rewritten or redistributed. We strive to uphold our values for every story published.