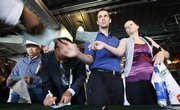 Washington — On the surface, the government seemed to signal Thursday that more Americans are finding jobs: The number of people receiving unemployment aid fell for the first time since early January.
But that doesn't necessarily mean more companies are hiring. Fewer people are receiving jobless aid largely because more of them have exhausted their standard unemployment benefits, which typically last 26 weeks.
Government figures, in fact, show the proportion of recipients who used up their jobless benefits averaged 49 percent in May, a record.
And while many analysts expect the recession to end by late summer, they warn that unemployment will stay high into 2010.
Other economists took a more positive view of the Labor Department report: They said it was consistent with other recent figures that suggest the economy is poised to recover from the longest recession since World War II by the July-September quarter.
The number of people receiving unemployment aid fell by 148,000 to 6.69 million in the week that ended June 6 — the largest drop in more than seven years. The decline broke a string of 21 straight increases in the number of people claiming benefits for more than a week, the last 19 of which were records.
The jobless-benefit rolls "always stabilize or decline right around the end of the recession," wrote Abiel Reinhart, an economist at JPMorgan Chase & Co.
Initial claims for jobless benefits rose by 3,000 to 608,000 in the week ending June 13. But the four-week average fell by 7,000 to 615,750. Figures for continuing claims lag behind those for initial claims by a week.
The four-week average is at its lowest point since mid-February, further evidence that the pace of job cuts is slowing.
The drop in the unemployment-benefits rolls could signal a slowing in the rise of the jobless rate, which reached a 25-year high of 9.4 percent in May. The decline also likely reflects the drop in first-time claims in recent months, meaning fewer people are joining the program.
Still, nearly 2.4 million people are receiving unemployment compensation under an emergency program authorized by Congress last summer and extended by the Obama administration's stimulus package. That program provides an additional 20 to 33 weeks of benefits beyond the standard 26 weeks of benefits.
Copyright 2018 The Associated Press. All rights reserved. This material may not be published, broadcast, rewritten or redistributed. We strive to uphold our values for every story published.