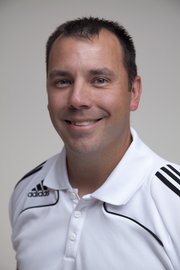 De Soto High girls soccer coach Darren Erpelding knows a lot when it comes to the world's most popular sport.
He knows the importance of a good goalkeeper, the necessity of a strong defense, and he also knows how to coach offense in a way that maximizes the skills of the players he has on the field.
For that, he has earned the Journal-World's All-Area Girls Soccer Coach of the Year award.
But even with the wealth of knowledge that he has about the game he loves, what Erpelding knew about his own team this season might have trumped it all.
"When it's all said and done, I'll look back on it fondly. But it all comes back to the kids. They're the ones laying it on the line," Erpelding said. "All I can do is put them in position and motivate them to do their best, and if they do, that's great. But they're the ones who should get the credit. Me running them into the ground, working their butts off, if I don't have kids who buy in and sell out for each other, these honors don't come."
Because of just those reasons, more than postseason awards came Erpelding's way during the 2009 season.
In addition to leading the Wildcats to within one game of the state tournament, Erpelding led a team that broke every major statistical record except one (goals against).
Whether it was goals scored, goals per game, shutouts or assists, the Wildcats rewrote the record books in a major way this year.
"Every single record except for the one belongs to a girl on this team or this team as a whole," Erpelding said. "Overall, it was a wildly successful year."
Individually, junior Carly Stanley broke school records for goals (39) and points (99). Erpelding said her season alone helped make him look good.
"It does help to have talent," Erpelding said. "That always makes you look good."
According to Stanley, however, it was Erpelding's high expectations and passion for the game that helped the team achieve such feats.
"His competitiveness is his best attribute," Stanley said. "He pushes us really hard and expects a lot out of us. We get attitude sometimes, but we know it's for the best."
One such situation came moments after a DHS victory in which the girls were begging their coach to be let out of school 10 minutes earlier for their game the following day.
"Coach screamed at our entire team after a game for that," Stanley said. "But he apologized the next day, and that was that."
To no one's surprise, the girls were not let out of class early.
Winning this spring's coach of the year honor completes a rare feat for Erpelding. In addition to being named the girls coach of the year, he was also named the boys coach of the year last fall. Although he admitted that the approach he takes to coaching each team differs greatly, he said picking up such honors in the same school year would go down as one of his greatest memories.
"We had our moments," Erpelding said. "But for the most part it was a good season. The girls were in good moods most of the time and were constantly working hard. I think one of the best things about this season was that we didn't take steps back. We always took steps forward."
Copyright 2018 The Lawrence Journal-World. All rights reserved. This material may not be published, broadcast, rewritten or redistributed. We strive to uphold our values for every story published.