Photo Gallery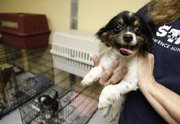 Lawrence Humane Society takes in dogs from Hutchinson, Pratt
If you are in need of a furry companion, the Lawrence Humane Society just might have the dog for you.
The shelter has seen an influx of 50 dogs in the past two weeks, including a delivery of 25 dogs from Hutchinson and Pratt on Thursday morning.
"Hutchinson Humane Society's roof blew off their shelter and while they're a small shelter, they needed some place to take the dogs," said Midge Grinstead, Lawrence Humane Society executive director. No other shelters in the area would take them, so Lawrence opened its doors.
After some changes at the Pratt shelter, its dogs also needed a place to stay. Grinstead couldn't say no. They have even converted the rabbit room into another space for the new additions.
"The nice thing about the Pratt and Hutchinson dogs are they are ready to go," Grinstead said.
The shelter has many smaller breeds, including Shih Tzus, miniature pinschers and some mixes.
"We have a lot of small dogs for a change," Grinstead said.
The shelter still has almost 15 Pekingese dogs after a raid last week from a puppy mill.
"If somebody's been looking, now's the time," Grinstead said.
You can contact the Humane Society at (785) 843-6835. The shelter, at 1805 E. 19th St., is closed Monday. It's open Tuesday through Friday from 11:30 a.m. to 6 p.m., Saturday from 11:30 a.m. to 5 p.m. and Sunday from 1 p.m. to 4 p.m.
Copyright 2018 The Lawrence Journal-World. All rights reserved. This material may not be published, broadcast, rewritten or redistributed. We strive to uphold our values for every story published.