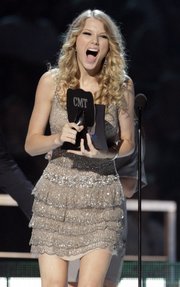 Nashville, Tenn. — Taylor Swift opened Tuesday's Country Music Television awards with a skit about living out her dreams. The 19-year-old country and pop sensation went a long way toward doing just that by winning video of the year and female video of the year for "Love Story" and by performing with one of her favorite rock bands.
"I want to thank Shania Twain for always making such theatrical videos, and Garth Brooks for always putting the fans first. I take my cues from you," Swift said in accepting video of the year honors. "I thank the fans for giving me video of the year when my whole family is here watching."
Swift won the fan-voted award over Brad Paisley's "Waitin' On a Woman," Trace Adkins' "You're Gonna Miss This," Carrie Underwood's "Just a Dream" and Sugarland's "All I Want to Do." Swift won video of the year and female video of the year for "Our Song" last year.
Her "Love Story" video is an elaborate production with period costumes that echoes the story of Romeo and Juliet.
"This is for everybody who still believes in love stories, because I do," Swift said earlier in winning female video.
She closed the awards show by performing "Pour Some Sugar On Me" with the British rock band Def Leppard.
Brad Paisley was the night's other big winner, taking home awards for male video ("Waitin' On a Woman"), collaborative video ("Start a Band" with Keith Urban) and performance of the year (Alan Jackson's "Country Boy" with Jackson, George Strait and Dierks Bentley).
"Start a Band" features two youngsters playing the Rock Band music video game. Paisley and Urban accepted the award together and urged young viewers to really learn to play.
"Learn guitar, kids — the real thing," Urban said.
"Rock Band never got anybody a date — never," Paisley added.
In his acceptance speech for male video, Paisley thanked TV legend Andy Griffith, who passes on some wisdom to a younger man in the video.
"He has changed my life in so many ways, and to be on film with him you can imagine what that would be like," Paisley said of Griffith, who was not at the show.
Rascal Flatts won group video of the year for "Every Day." The band's bassist Jay DeMarcus called country fans "the greatest fans on the entire planet."
In accepting the award for performance of the year, Jackson said he signed his record deal 20 years ago this week.
"I've made I think about 45 country music videos in that time," Jackson said. "CMT and the fans have been with me ever since."
Earlier, Sugarland won duo of the year for their island-themed video "All I Want to Do," and the Zac Brown Band won breakthrough video for "Chicken Fried," their snappy song about life's simple pleasures.
"Thank you for following us wherever we've been going," Sugarland's Kristian Bush said of the soulful song and video, which features singer Jennifer Nettles on a surfboard.
In accepting the award, Nettles said Urban leaned over to her as the nominees were being announced and told her, "I like your odds."
Kid Rock won wide open country video for "All Summer Long," which samples Lynyrd Skynyrd's "Sweet Home Alabama" and Warren Zevon's "Werewolves of London." The video, set on a lake in northern Michigan, features bikini-clad dancers on a pontoon boat.
"I think this was based on creativity, this award, because what's more creative than a strip pole on a pontoon boat?" said Kid Rock, who hugged Sheryl Crow as he walked up to accept the award. A few years ago, Kid Rock and Crow teamed for the hit "Picture."
Copyright 2018 The Associated Press. All rights reserved. This material may not be published, broadcast, rewritten or redistributed. We strive to uphold our values for every story published.