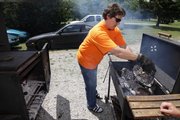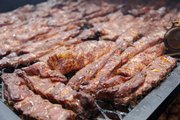 Karen Glotzbach's life is literally up in smoke.
There's smoke during the daytime, nighttime, on-the-job, off-the-job.
And only half the time is that a bad thing.
Glotzbach is an engineer and paramedic for Lawrence-Douglas County Fire & Medical. In rotating "tours" she works three 24-hour shifts in five days before getting four days off at Fire Station No. 1. Obviously, that job contains the bad smoke — the kind that destroys.
But the kind of smoke Glotzbach sees in her time away from the firehouse is the good kind — especially if you happen to be a barbecue lover.
Glotzbach of Lawrence and friend Bev Herrman of Winchester are the force behind KB's Smokehouse, a smoked meats catering service in Lawrence.
KB's does pulled pork, wings, riblets and holiday birds. And the barbecue must be serious stuff: KB's won a people's choice award at the Sertoma 48 BBQ Contest on May 9, and it is naturally the barbecue of choice for the city's emergency workers.
"I think it's very excellent, just like a lot of people, we like good barbecue, and her barbecue is done up with a particular kind of dry rub," says Andy Booth, a local firefighter. "And it's (so) cooked to perfection with her little secrets, that you don't even need any barbecue sauce, that's how good it is."
Starting the fire
Glotzbach and Herrman decided to combine their mutual love of cooking into a business four years ago. Glotzbach had been barbecuing and smoking foods for 20 years while Herrman, a supervisor for Kansas University's facilities operations, had always loved grilling.
"I've always enjoyed cooking outside and barbecuing and all of that stuff. We've had small, normal smokers, and then we had the harebrained idea," Herrman says of opening a business. "I really enjoy doing that, it's not really like work."
They started off slow, working family events and parties thrown by Glotzbach's co-workers.
"Both of my daughters, we cooked all the food for their wedding receptions. My youngest daughter had a pretty good-sized reception about two years ago," Herrman says. "And I was just using a normal-sized ... smoker and it took me about two days to smoke enough meat for her wedding reception in that thing."
Soon that normal-size smoker became too small, and Glotzbach's firefighting knowledge came in handy outside of her work tours.
"Some of my firefighting skills also came into play with it. Because of the whole ... you know ... just how the buildup of fire happens and the conduction of heat, radiation of heat and so on, how your heat rises and smoke goes and all that. And so I used some of that in the design of it," Glotzbach says. "We didn't want the typical round smoker like everybody else has or just a vertical up and down. We wanted it to look different, and so that's why we kind of incorporated the roof and made it look kind of like a house."
The pair used what was then Smith Steel and Supply, now McNeely Steel of Leavenworth, to custom-build KB's smoker based on Glotzbach's experience and numerous hours of research done by both women on the Internet.
"We took just our hand drawings, you know, what we wanted, scribbles and stuff in there," Herrman says. "And they had never built one before. This was a first for them."
The result is a smoker that looks like a contemporary two-story with an attached garage, rather than the traditional round smokers so common on the barbecue circuit. But when this little house is on fire, it can cook nearly 500 pounds of meat without blinking an eye.
"And the food that comes out of that thing is fantastic," says Herrman.
Meat and charity
All that research has apparently paid off, as Glotzbach and Herrman are hitting their stride, cooking for an event nearly every weekend during this grilling season.
One event is Booth's annual party that helps raise money for his wife, Kim, to do the Breast Cancer 3-Day, a 60-mile walk that benefits the Susan G. Komen for the Cure network. The fundraiser, called "Mugs for Jugs," used to raise about $1,000 before KB's began catering it. Now, says Booth, it raises close to $3,000 in one night.
"It's really been fun, it's been pretty beneficial," Glotzbach says. "A lot of our stuff has been for charity, but we enjoy doing it."
And that charity extends to co-workers at the firehouse, who get handouts every time KB's smoker gets going.
"My crew always benefits, well, most always benefits, from when I cook," Glotzbach says. "I usually throw on extras for them and bring it in. And they all love it."
Copyright 2018 The Lawrence Journal-World. All rights reserved. This material may not be published, broadcast, rewritten or redistributed. We strive to uphold our values for every story published.