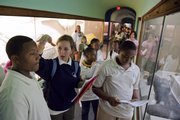 A group of students sits scribbling notes in the back of their first-ever college class. It's early, but these students couldn't be more excited to be here.
"One of my students said something along the lines of, 'I totally understood what they were saying and the words weren't too complicated. I just got it,'" said Krista Holzgraefe, who teaches this group of sixth-graders at Gary Lighthouse Charter School in Gary, Ind.
The group, which traveled to Lawrence on Monday, got the opportunity to sit in on college-level communications classes Tuesday morning before taking a tour of the campus, visiting the Natural History and Spencer Art museums and meeting Kansas University football players.
Holzgraefe, who organized the trip, teaches sixth-grade math as part of the Teach for America corps. She said she wanted to give her students, who come from a city notorious for its high crime and poverty, the opportunity to see what college life is like.
"One of the things that we really like to start introducing to our students, even as early as kindergarten, is the fact that they do have the opportunities that those from higher-income areas have, and they can also one day go to college," Holzgraefe said.
Holzgraefe, a 2007 KU graduate, began fundraising in February to generate the $6,000 needed to bring the 24 students to Kansas for a day.
She said it was difficult teaching in such a low-income area because students often tested several grade levels below where they needed to be. In her class of sixth-graders, she said, most students tested at a third-grade level for math and reading.
"At the same time it's difficult coming into a school where students are very used to teachers leaving in the middle of the year," Holzgraefe said. "Just showing them that I'm not going to give up on them, no matter how tough it is. I think it means a lot to not just tell them that I care about their education, but to show them that they can succeed."
Kerci Marcello Straud, communications director for Teach for America, said the organization sees corps members finding new ways to reach out to students — whether it was through after-school programs or on-campus visits.
"We just see over and over our corps members just going above and beyond traditional expectations," Straud said. "We just see them doing really whatever it takes to get their students to where they need to be."
Copyright 2018 The Lawrence Journal-World. All rights reserved. This material may not be published, broadcast, rewritten or redistributed. We strive to uphold our values for every story published.