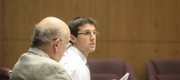 More coverage of the trial of a former Kansas University student accused of beating and kidnapping his ex-girlfriend.
Prosecutors say Matthew Jaeger, trained in the Brazilian martial art of jiu-jitsu, had a history of using a sleeper hold on his ex-girlfriend to knock her unconscious, and they pleaded with a judge Wednesday to allow that evidence to be heard at his upcoming trial.
"He had the skill, ability and knowledge to perform the choke hold so she would be unconscious immediately, and he'd done it to her before," Asst. Attorney General Nola Wright said.
Prosecutors hope they'll be allowed to present evidence of Jaeger's violent history with the victim and other women when his case goes to trial the end of July.
Jaeger, who was 22 at the time of the incident, is charged with aggravated battery, aggravated kidnapping, aggravated burglary and criminal threat.
He's accused of breaking into his ex-girlfriend's apartment in the 1200 block of George Court in October 2007, brutally attacking her after finding her with another man and then dragging her outside to a waiting car.
She suffered massive injuries to her vagina and pelvic region. Prosecutors have called her injuries among the most horrific they've seen.
The attorney general's office has also taken the unusual step of filing a motion asking the judge to impose a harsher sentence if there is a conviction in the case.
It's a request Judge Robert Fairchild has never heard before in his courtroom.
Prosecutors are arguing that due to the excessive brutality of the crime, Jaeger deserves a longer sentence than allowed by Kansas sentencing guidelines.
It's an issue that would have to be decided by jurors, similar to a capital murder case.
Fairchild said he'll make the decision on whether to allow jurors to consider imposing an upward departure, after listening to all evidence in the case.
Jaeger, who remains out of jail after posting $850,000 bond, was back in Douglas County District Court for Wednesday morning's hearing.
Wearing a suit, he sat at the defense table with his three attorneys.
Defense Attorney Pedro Irigonegaray argued several motions of his own.
Irigonegaray asked the judge to keep evidence of weapons seized from the defendant's car out of trial. When police officers stopped the vehicle and found the victim injured inside, they also recovered a knife from the back seat of the car, near where the victim was seated.
"There is no evidence at all that this weapon was used in this incident," Irigonegaray said. "It's prejudicial to the jury and has nothing to do with the alleged crime."
Fairchild ruled the evidence will most likely not be allowed at trial.
Irigonegaray was also asking for the opportunity to individually question every potential juror.
"We're not going to do that," Fairchild said. "We're not going to spend months picking a jury in this case."
Fairchild said court officials do plan on summoning nearly double the number of potential jurors for this case -- between 120 and 150 people will be called in.
The case, which is slated to last three weeks, is scheduled to begin July 27.
Later this month, Fairchild will take up another motion filed by the defense in an attempt to suppress statements Jaeger made to police. A hearing on that issue is scheduled for June 29.
Copyright 2018 The Lawrence Journal-World. All rights reserved. This material may not be published, broadcast, rewritten or redistributed. We strive to uphold our values for every story published.