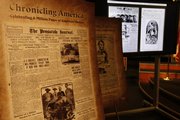 Washington — "Flying Machine that will Work: Ohio Boys have Solved a Big Mechanical Problem," reads a headline from the Palestine Daily Herald in Texas.
A banner from The San Francisco Call-Chronicle-Examiner screams: "Entire City of San Francisco in Danger of Being Annihilated."
These century-old headlines and millions of others are now available through your home computer.
The vintage accounts of the Wright brothers' first "aeroplane" flight in 1903 and the San Francisco earthquake of 1906 are among the news stories preserved through the National Digital Newspaper Program.
The program Tuesday celebrated the first 1 million pages that have been posted on a free, government-funded Web site: http://chroniclingamerica.loc.gov.
There is, of course, the first draft of history from events like the start of World War I and the opening of a major transit tunnel in New York.
There are bloopers, too.
"The Teddy bear craze is dying out," reported the Ocala Evening Star in Florida, passing off the huggable stuffed animals as merely a fad in 1907. Other reports surmised Teddy Roosevelt's chances of returning from an African safari were slim to none.
The pages are available in one place online, and searchable for the first time without having to sift through microfilm. "We hope to make microfilm obsolete," said John Herbert, who has led a newspaper digitization effort at the University of Utah since 2005.
Librarians aren't quite sure which title hit the 1 million mark first because they upload large chunks of data at once. The Deseret Evening News from June 16, 1900, was among 11 titles that could have been the 1 millionth added.
The total has already grown to 1.2 million pages, and the archivists expect to eventually hit 20 million pages, dating from 1836 to 1922. Many earlier newspapers from the colonial era already have been digitized through other projects, and newspapers after 1922 are largely protected by copyright and not considered to be in the public domain.
Students, genealogists and others can find the documents at the Library of Congress' Chronicling America Web site.
Organizers are building search aids on various topics, such as the annexation of Hawaii, to help guide researchers to the best pages. They've also discovered tips on how best to search.
"You need to be thinking of the vocabulary they used in the 1880s," said Mark Sweeney, who helps coordinate the project at the Library of Congress.
The site includes major daily newspapers as well as smaller town publications, Sweeney said, because "you can get a very different take on the news."
It also has a directory of nearly 140,000 newspaper titles dating back to 1690. For many that are not yet digitized, it directs researchers to places where those newspapers are kept in print or microfilm.
The National Endowment for the Humanities and the Library of Congress, which split the costs of maintaining the site, also announced plans Tuesday to expand the digitization program to seven more states for a total of 22. Carole Watson, acting chairman of the humanities endowment, said the goal is to eventually include newspapers from all 50 U.S. states.
Grants are being awarded to Illinois, Kansas, Louisiana, Montana, Oklahoma, Oregon and South Carolina. Universities and historical societies will receive a maximum two-year grant of $400,000 to select and digitize 100,000 historically significant newspaper pages from 1860 to 1922 in each state. The endowment is investing about $5.2 million in the project this year and has spent $11.6 million in grants since 2004, said Nadina Gardner, director of the NEH preservation and access division.
"Newspapers are the most important printed record of the history of our country at the local, state and national level," said Henry Snyder, director of the Center for Bibliographical Studies and Research who leads California's digitization effort. "Every citizen in our country is a potential user and beneficiary."
Copyright 2018 The Associated Press. All rights reserved. This material may not be published, broadcast, rewritten or redistributed. We strive to uphold our values for every story published.