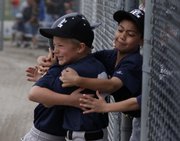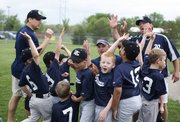 Some moms walk around with their score pads. Some dads latch onto the fence behind home plate. Other parents watch intently from the bleachers as their children — as young as 6 — play competitive baseball.
It's the sight most summer nights at the Youth Sports Inc. complex, also known as YSI, 2700 W. 27th St.
Dressed from head to toe in matching baseball uniforms, multiple teams — split fittingly between the American League and the National League — face off against one another during intense matchups.
According to statistics, it is likely 75 percent of the young children who play competitive sports will quit playing by the age of 13, primarily because it isn't fun anymore, says Lee Ice, Lawrence Parks and Recreation youth sports supervisor.
"The kids just want to play, and they'll have fun regardless, if we let them," he says. "The parents and the adults, we're the one's who get in the way and make it no fun."
About 350 children play in the city's competitive Douglas County Amateur Baseball Association and Louie Holcom Baseball Association leagues. But there are another 1,200 children who play in the city's non-competitive, recreational leagues.
Competitive or not, Ice harps on parents about being a positive influence on their children and to keep the game in perspective.
"This isn't life or death. It's meant to be fun," Ice says.
'It's just a game'
Parents admit there's a fine line between being competitive and being a good sport.
"It's more challenging for the parents than the kids," says Tracie Miller, who has two children that play competitively for teams Red Sox and Vipers in the DCABA league. "We just remind each other that it's just a game and we try to keep it in perspective."
Miller says she gives her young boys — 7-year-old Ben and 9-year-old Alexander — hugs before their baseball games, tells them to have fun and then tries to behave herself.
"Our family is very competitive, and it's important to win. But I really want them to have fun," says Miller, who grew up around the summer sport and calls it a pastime. "That's what it's all about, is having fun."
Being a good sport can also be challenging, given good sportsmanship isn't always the norm among professional and college athletes, parents say.
Miller says the first thing her boys do when they get up in the morning is turn on ESPN's SportsCenter, which is sure to have a fair share of negative sportsmanship examples. She says it impacts how her children behave and act.
"It's something we talk about at the dinner table a lot — what's appropriate, what's not," says Miller.
William Flores, another Lawrence baseball parent of 9-year old Francisco, a member of the Scorpions team, says sportsmanship includes small and large gestures, such as shaking hands with opponents after a game, helping players who fall down get back up, not cursing and congratulating opponents after a losing a game.
"Whether they lose or they win, it's all as a team," Flores says.
Mark Callahan, Red Sox coach and parent of 7-year-old Sean, says he works hard to make sure all kids on his team are having fun.
"They are very competitive at this age, even though they are young," Callahan says. "We try and just teach them respect your opponent, known the rules of the game and have fun."
Emphasis on fun
The Lawrence Parks and Recreation Department says it promotes sportsmanship, education and accountability and works to put fun back into the game.
The city belongs to the statewide Our Promise to Kids project, an initiative by the Kansas Recreation and the Parks Association, which helps make youth sports better for children through a specific set of values that members use to administer their programs.
Ice holds frequent meetings with parents and coaches to inform them of how they can best make the sport fun for children.
"The most important thing for the kids ... is not whether or not they won or lost the game, it's who brought the treats after the game," says Ice. "The job of the adults, the parents, the coaches ... is to try to find a way to keep it fun for the kids."
He says parents shape the atmosphere and spirit of the games, and tells them there are four things to do in sports: Play, coach, officiate or watch.
"Where we run into problems, is when you try to do somebody else's job," Ice says.
Copyright 2018 The Lawrence Journal-World. All rights reserved. This material may not be published, broadcast, rewritten or redistributed. We strive to uphold our values for every story published.