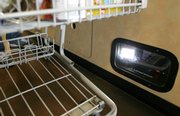 Cincinatti — With shoplifting on the rise — including organized teams sweeping through stores and lifting scores of items in minutes — retailers are beefing up plainclothes patrols and video surveillance, and competitors are working together to prevent crime.
Stores are running online stings and sending security guards onto sales floors posing as customers. The FBI helped create a database for trading notes on suspects and their methods. Minneapolis-based Target Corp. even has a forensic lab and tracks video feed from its 1,700 stores at regional hubs.
"In light of today's economy and the expense pressure, it is an investment that shows good return," said Brad Brekke, a former FBI special agent who heads assets protection for Target. "There is definitely economic pressure generating more activity across the board — fraud, theft, cyber crime. The intensity has gone up as the economy has gone down."
The National Retail Federation, a trade group, says nearly half of 115 retailers it surveyed are spending more on crime-fighting — some companies spend more than $1 million a year just on personnel hired to stop crime rings. The NRF, which opens a loss prevention conference Monday in Los Angeles, says 92 percent of the surveyed retailers were victims of organized theft teams last year, an 8 percent increase, even as many saw slumping sales.
More individuals are shoplifting, as in several steak-stealing incidents in Kroger Co. grocery stores across the country this year. But retailers say the vast majority of their losses are from thefts by organized rings that usually send in a small group including a getaway driver, an in-store lookout and several "shoppers."
Joe LaRocca, a senior adviser for the retail federation, said it only makes sense to cooperate with competitors to fight the problem, which officials peg at $35 billion a year and rising.
"You know you're getting hit and your neighbor is getting hit and, by working together, you have a much better rate of identification and prevention," LaRocca said.
Wal-Mart Stores Inc., Saks Inc., Ann Taylor Stores Corp. and others share information in the 2-year-old national database with the hope of stopping organized teams that take medicines, popular-brand clothes, video games and electronics — items that can be quickly resold in small shops, flea markets and online.
"I'm even amazed sometimes at what these guys do," said Jerry Biggs, who heads anti-organized crime efforts for the Walgreen Co. drugstore chain. "They're in and out in four minutes. They can go from store to store, do this all day long."
In what Florida authorities dubbed "Operation Hot Milk," 21 people were arrested in March in connection with a multimillion-dollar baby formula theft ring. Generally, men acted as lookouts and getaway drivers while women slipped cans of powdered formula worth about $25 each into their bags. Polk County Sheriff's deputies began investigating in late 2008 after finding stolen baby formula during a traffic stop.
Biggs said the rings know more households are looking harder for bargains — often online, where many high-volume thefts are fenced, or in flea markets and small shops — during the recession.
"It's created a larger demand for product at lower price," he said. "People just think they're getting good deals."
Copyright 2018 The Associated Press. All rights reserved. This material may not be published, broadcast, rewritten or redistributed. We strive to uphold our values for every story published.