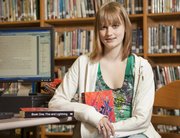 Katie Guyot reads a selection from her book
It started off as simple imagination.
"In sixth grade, I started getting pictures of characters in my mind," Katie Guyot says. "I didn't have the motivation to write it down yet."
That changed in seventh grade. And then last school year, in eighth grade, Katie finished her first book in what she hopes is a four-part series called "The Diamond Holders."
The first book is called "Fire and Lightning." Katie says the book series, set in a "completely different world," is about eight people who gradually realize they have special powers. They are forced to pick sides in a war that is going on.
"It's my passion," she says of writing. "I sit down and write a couple pages. Some days I write more than others."
Katie, a 13-year-old who will be a ninth-grader at West Junior High School this fall, published the first 435-page book through the online site Lulu.com but has hopes to get a publishing house to sign on.
So far, she has two rejection letters.
"It's actually exciting," she says. "People say you can't be taken seriously until you have a stack of rejection letters."
Katie has been working on her book in an independent study course taught by Mary Yadon, the school's librarian.
"To have in mind a full quartet of stories is very rare," Yadon says. "Those characters are very alive to her."
Yadon notes it's difficult for a young writer for keep a steady voice in a book that is hundreds of pages long.
"That's hard to do," she says, "to make a world that's consistent."
Katie currently is working on the next book in the series. She says she's always been a fan of fantasy writing and especially likes "Twilight" author Stephenie Meyer. She wants to be an author someday herself.
"That's my goal in life," she says.
Copyright 2018 The Lawrence Journal-World. All rights reserved. This material may not be published, broadcast, rewritten or redistributed. We strive to uphold our values for every story published.