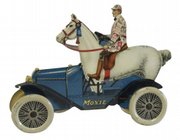 Moxie, the soft drink that was introduced as a medicine in a Massachusetts drugstore in 1876, used some very early automobiles in advertising campaigns.
In 1915 or '16 Frank Archer, the Moxie adman who started as a clerk at the Moxie Nerve Food Co., designed the first Moxie Horsemobile. It was an eye-catching full-sized car with a live horse mounted on the back.
The first Horsemobile was top-heavy and dangerous to drive, so it was redesigned with a horse made of papier-mache. In later years the horse was molded from aluminum. The first car was a Dort Speedster, but in later years the car was a Buick, a LaSalle or a Rolls Royce. Horsemobiles were driven in parades by daring drivers who rode the horse while controlling the vehicle's speed and steering with specially designed pedals and extensions. Moxie advertised in many ways and sold a lithographed tin toy replica of the full-sized Horesmobile.
Today there are organized groups of collectors who search for Moxie-related items. In March a very rare version of the toy Horsemobile with a blue car sold at Bertoia Auctions in Vineland, N.J., for $5,750.
Q: I received some Tootsie Toy dollhouse furniture for Christmas in 1941 and still have it. What can you tell me about it?
A: TootsieToy dollhouse furniture was made by the Dowst Brothers Co. from 1922 until 1937. The company was started by Charles Dowst in 1876 and became Dowst Brothers Co. after Charles's brother Samuel joined the business. Dowst made die-cast metal collar buttons, novelties, Cracker Jack prizes and other small toys. TootsieToys were named after a Dowst granddaughter, Toots. The brand name was first used on dollhouse furniture in 1922 and was registered in 1924. The 1923 Sears catalog advertised "Tootsie Metal Doll House Furniture." Sets of living room, dining room, kitchen, bedroom and bathroom furnishings were offered for 83 cents a set. Dowst advertised TootsieToy as "America's oldest toy company." A complete set of bedroom furniture in the original box sold for $165 last year. Individual pieces usually sell for $15 to $35.
Q: I collect metal pieces made by the Chase Brass & Copper Co. They are very modern in design, and I have learned that several famous designers, including Rockwell Kent, Gilbert Rohde and Russel Wright, worked for Chase. A dealer told me Chase's main designer was Harry Laylon, who left Chase to design for Syroco, the company that made imitation-wood novelties like bookends and clocks. Now I am searching for Laylon-designed pieces, but before I spend too much I want to be sure the story is true.
A: Yes, it's true. Harry Laylon started working for Chase in 1933. He became its design director in 1937 and left in 1940. He designed many useful gadgets in innovative styles, including a tea ball, bottle opener, cocktail cups and bar caddy. He worked for Syroco from 1948 to 1978 designing decorative wall pieces, including mirrors, sconces and shelves. Most famous is his Sunburst clock and molded plastic lawn chair. Both are still being made.
Q: I have a pocket watch that was found after my parents died. I think it belonged to my great-grandmother's second husband. The watch face has portraits of two older men in military uniforms and the words "Einheit Macht Stark" on it. Can you tell where it was made? This would solve one of many mysteries connected to my special heirloom.
A: The German words are the clue to your watch. They can be roughly translated as "Unity makes strong" or "Unity is strength." The two men pictured are probably Kaiser Wilhelm II (1859-1941) of Germany and Emperor Franz Josef I (1830-1916) of Austria. Wilhelm II was the last German emperor and King of Prussia from 1888 until the end of World War I in 1918. Franz Joseph I was emperor of Austria and king of Hungary from 1867 until his death in 1916. Germany and Austria signed a Dual Alliance in 1873 to protect themselves from Russia. The alliance was in effect from 1879 to 1918. Your watch probably dates from the early 1900s.
Q: I purchased three Mr. Rogers hand puppets at a flea market 20 years ago. They're X the Owl, Lady Elaine and King Friday. All are in good condition. They were made by Mattel and each one is marked "Fred Rogers" and "1968" on its neck. What do you think they're worth?
A: "Mr. Rogers' Neighborhood" was first broadcast in 1968 and remained in production through 2001. Fred Rogers (1928-2003) was the show's creator and main character. Your hand puppets are based on puppet characters in the TV series. A set of six was offered for sale recently with an asking price of $25. Your set of three is worth about half that.
Tip: Don't hang old purses. The weight of the purse puts too much strain on the handle.
— Terry Kovel answers as many questions as possible through the column. By sending a letter with a question, you give full permission for use in the column or any other Kovel forum. Names, addresses or e-mail addresses will not be published. We cannot guarantee the return of any photograph, but if a stamped envelope is included, we will try. The volume of mail makes personal answers or appraisals impossible. Write to Kovels, Lawrence Journal-World, King Features Syndicate, 300 W. 57th St., New York, NY 10019.
Copyright 2018 The Lawrence Journal-World. All rights reserved. This material may not be published, broadcast, rewritten or redistributed. We strive to uphold our values for every story published.